Annie's Piggly Pines - DOGS
Here are some pictures in Jan., 2016 of King and Mohawk. King is a 3month old puppy, that has a lot of growing to do. He is an English Mastiff and will get quite large. Our guests are going to send pictures when he gets full grown , should be interesting. King is from North Dakota. Mo really wanted to play and so did King but King wasn't quite sure.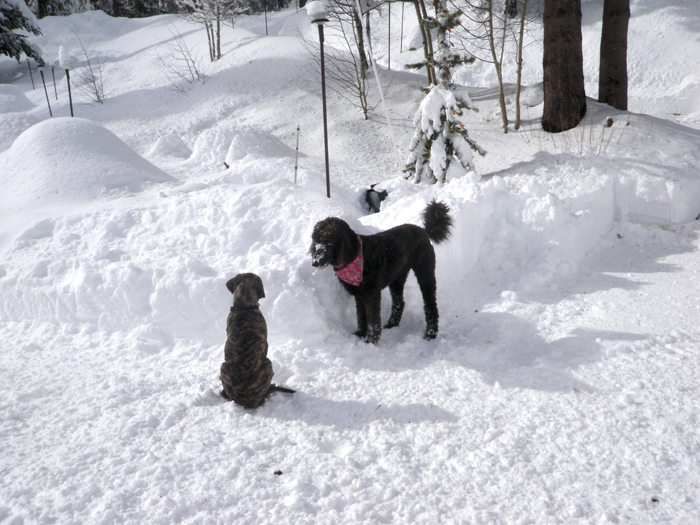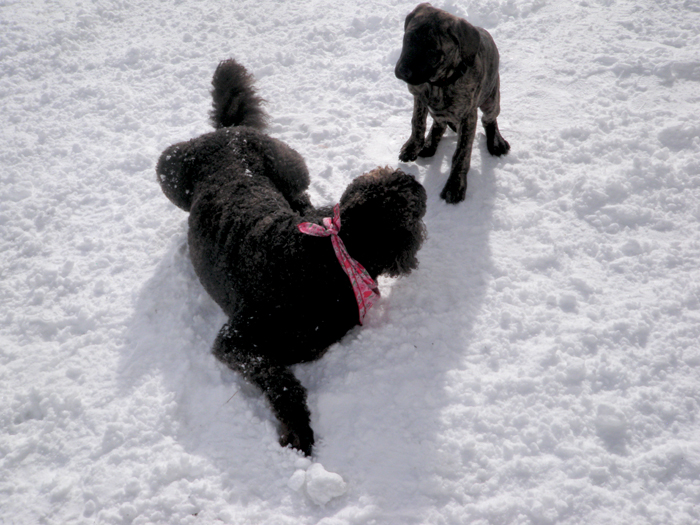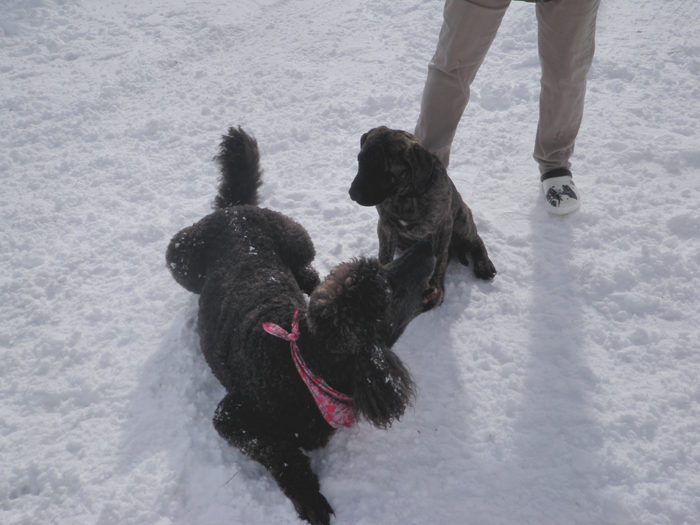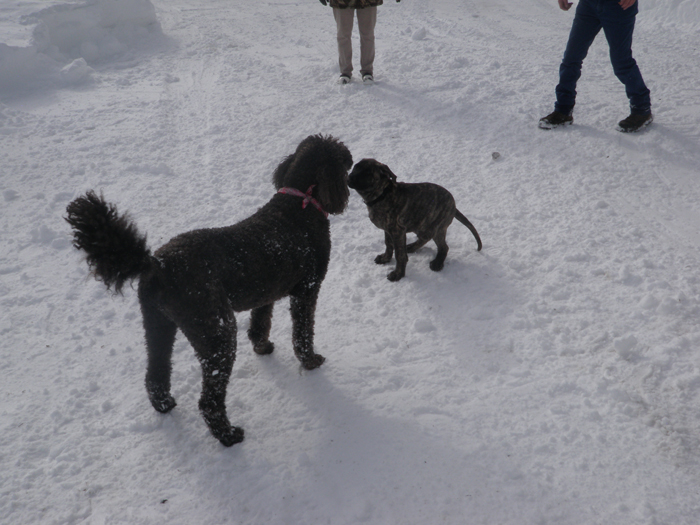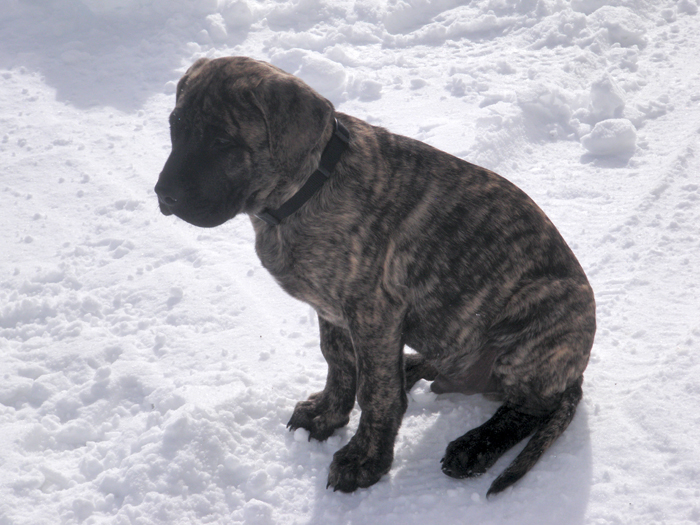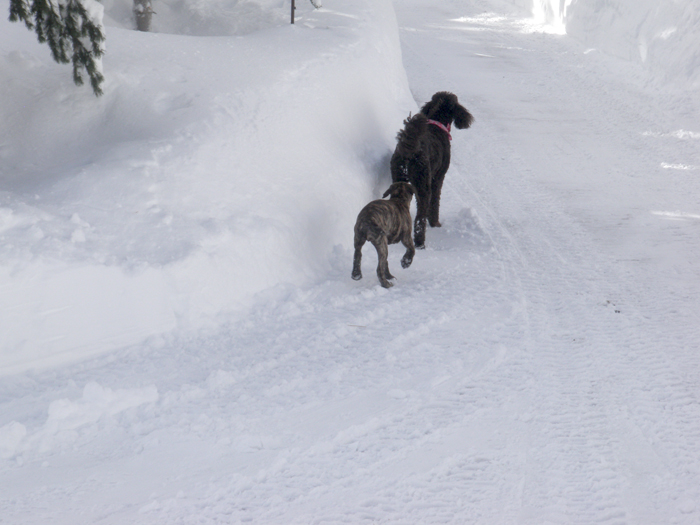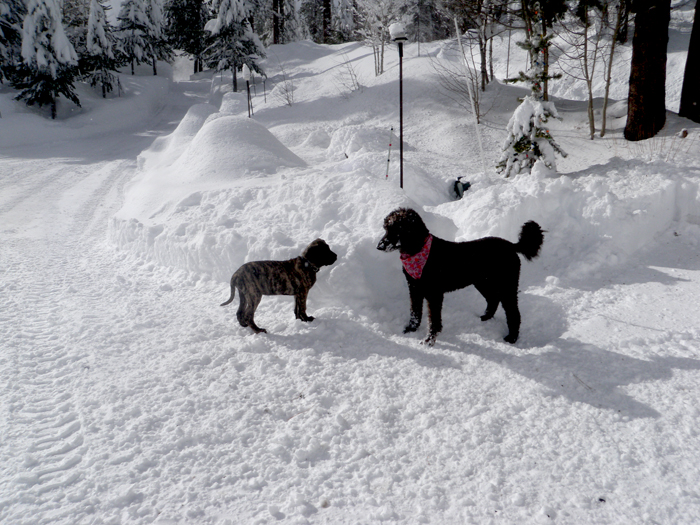 These were after his 2 weeks stay-he grew a little while he was here!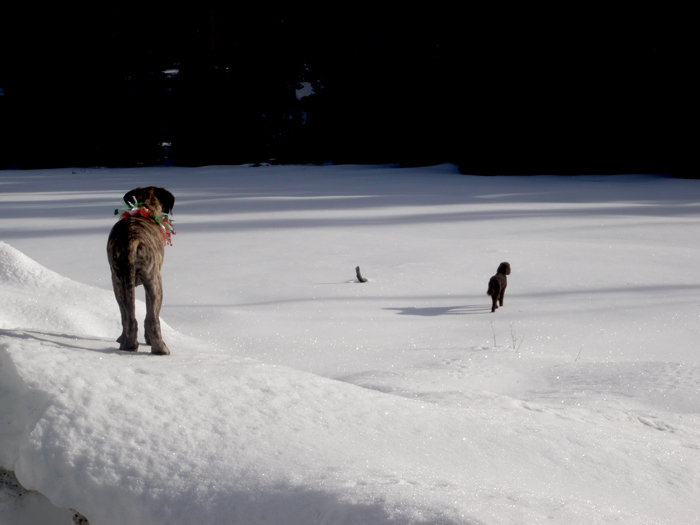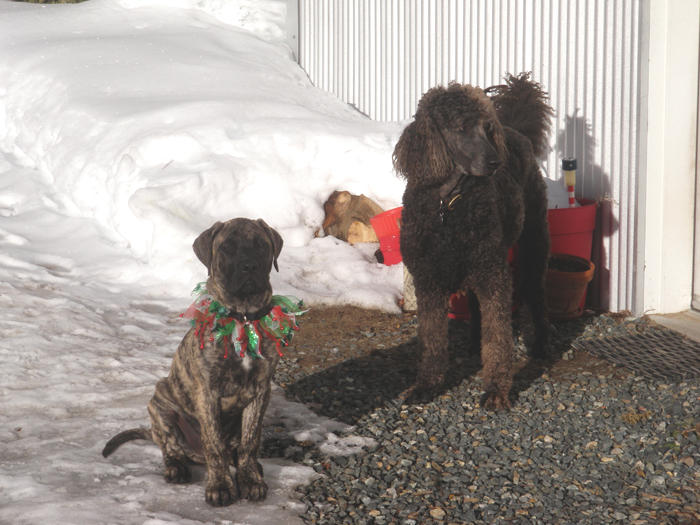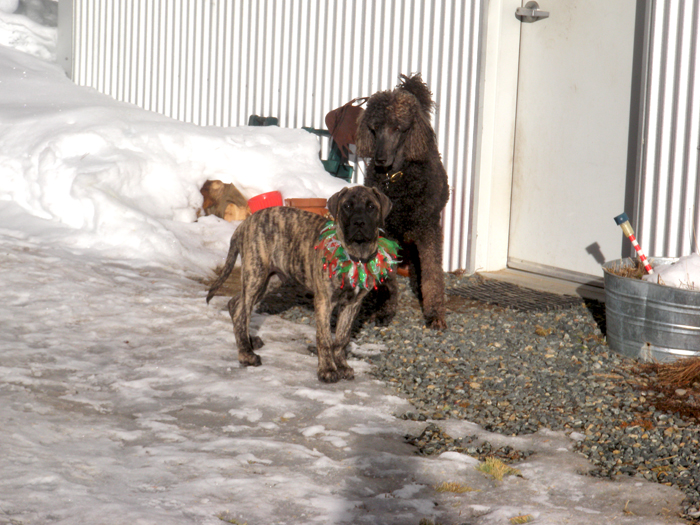 Hiway 2003 - 2015
Hiway passed away July 15, 2015. This picture was taken by our friend and guest Jonathan Curtsinger. She is buried near where this picture was taken, she loved her meadow. She will be missed.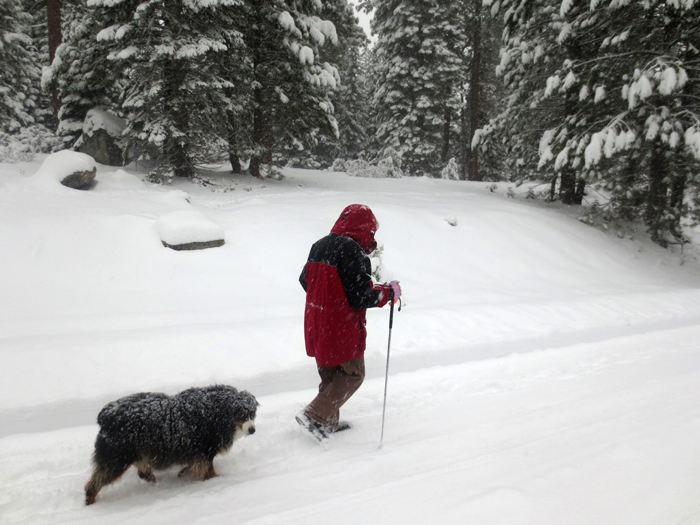 How she loved the snow.
Here is Eleanor and Nessie. Eleanor came up for Bozzage lessons about every 2 weeks during the summer and fall 2015. Nessie was a rescue dog and boy is she a sweet heart. She is so fast, she catches chipmunks and squirrels. Mohawk and Nessie would run and play and she had a great time on Eleanor's rides and our walks. Looking forward to seeing her in the Summer and Fall of 2016.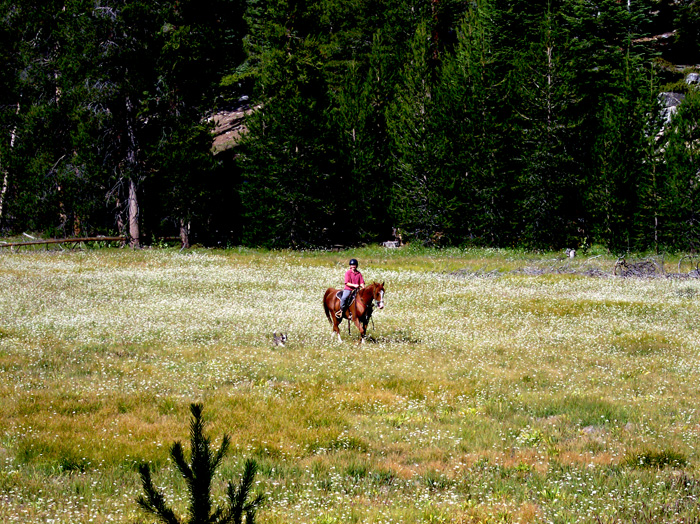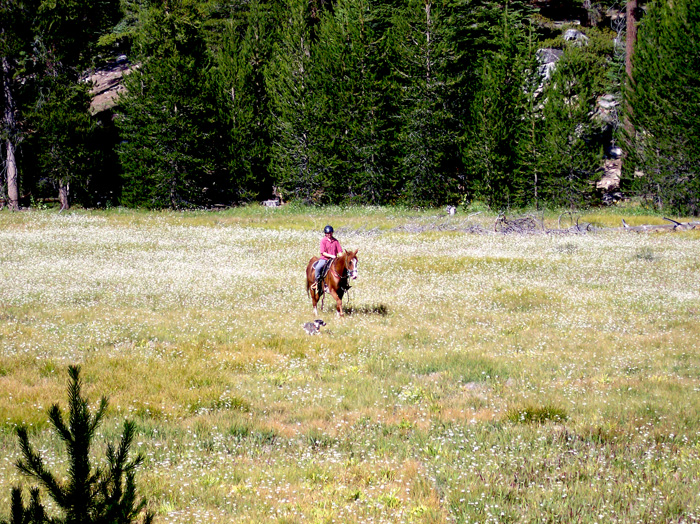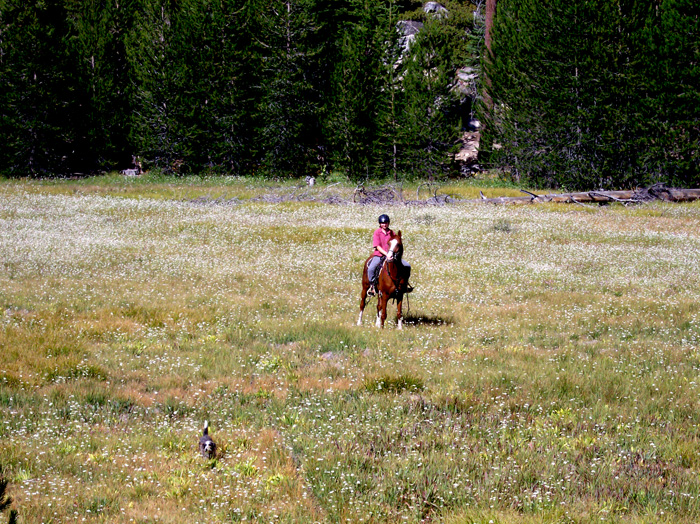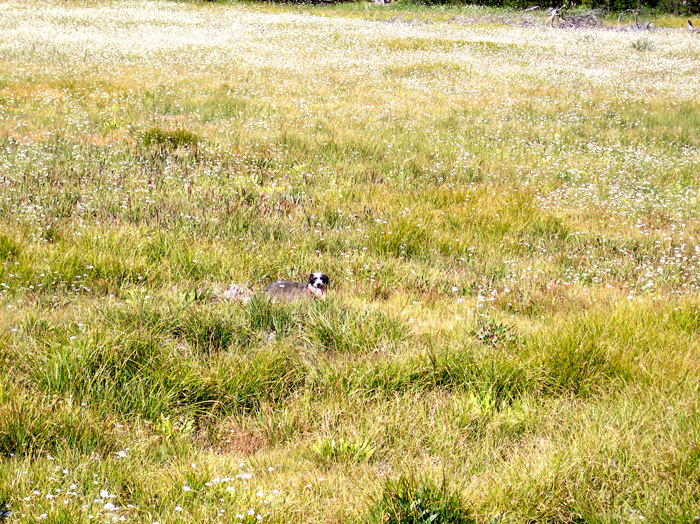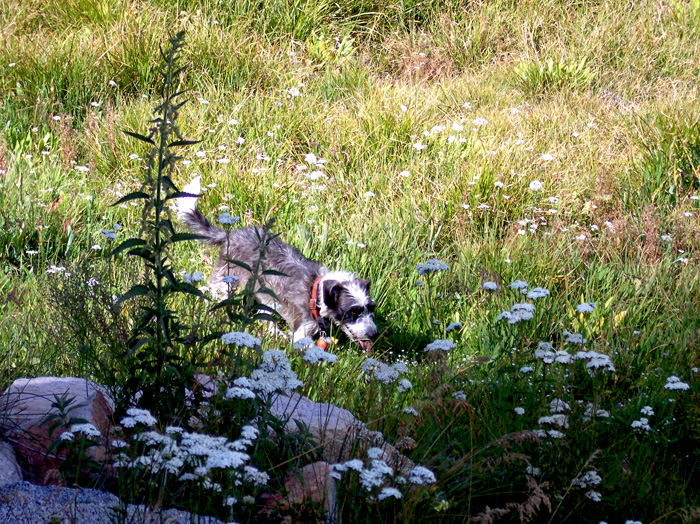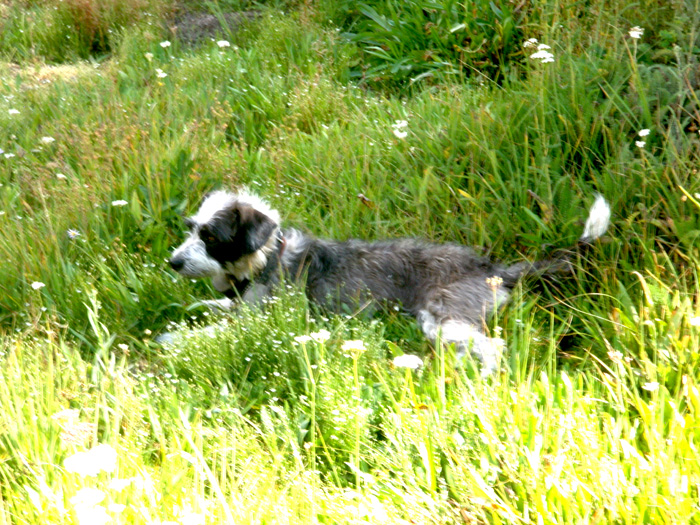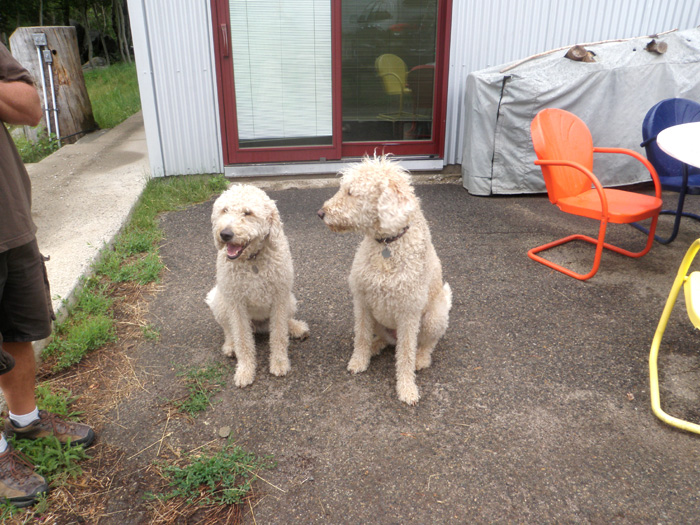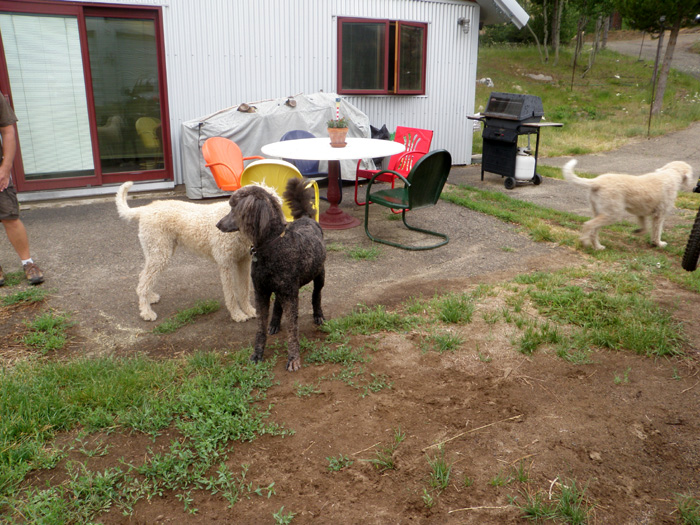 July 2015 we have the pleasure of Rosie and Anne visiting us. They are sisters and Labadoodles. 75% standard poodle/24% lab Mohawk wanted to play.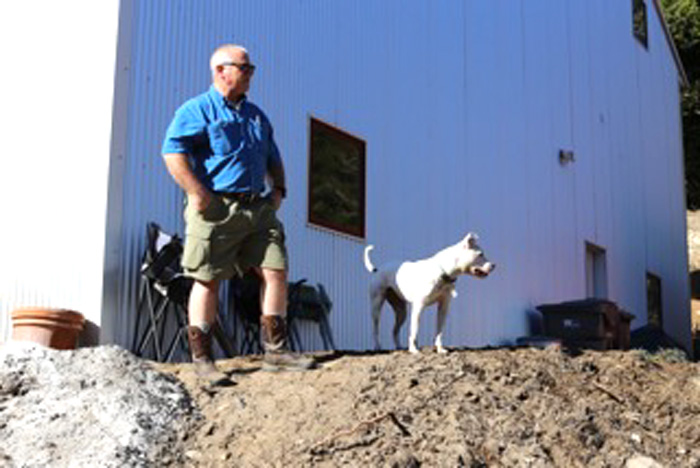 John and Lucy watching the chickens. She found the chickens very interesting. April 2015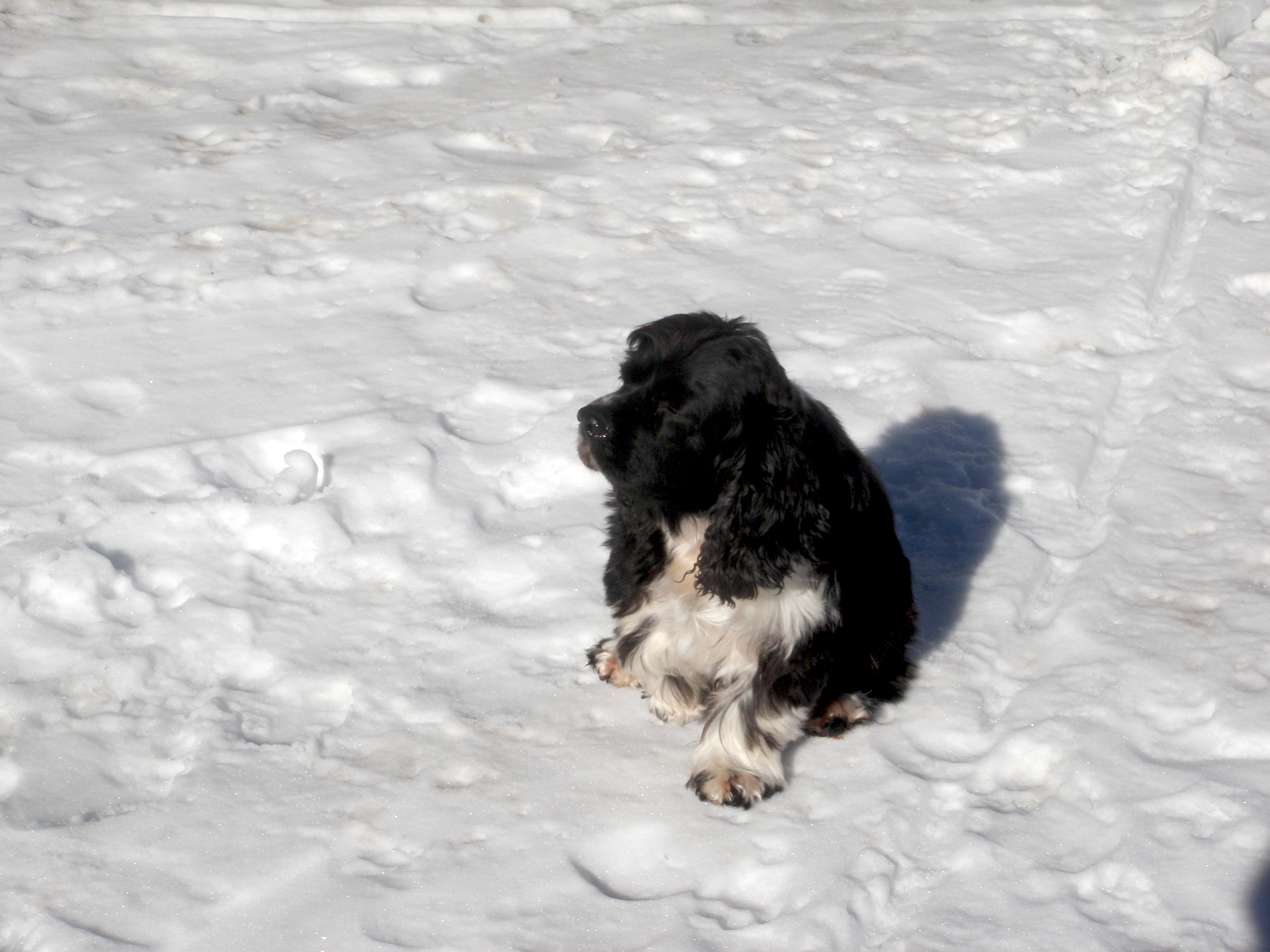 And there was Maddie, what a sweetie . Dec. 2014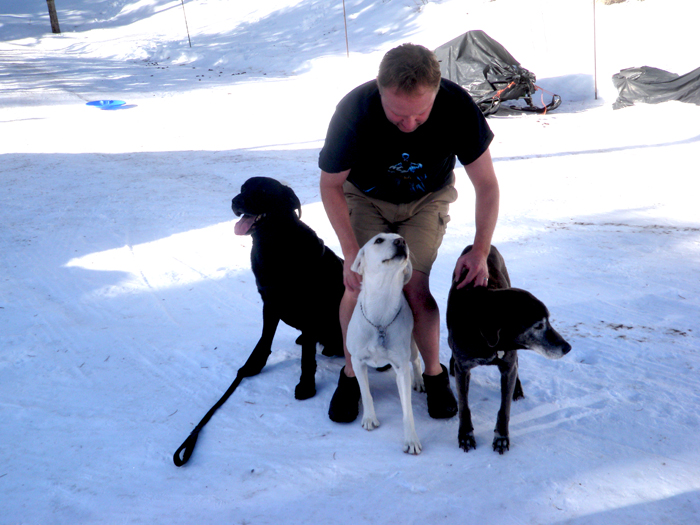 Stewart with his dogs, Angus, Penny (in the middle) and Lucy (14 years old) They had a blast running and playing in the snow.Jan 2015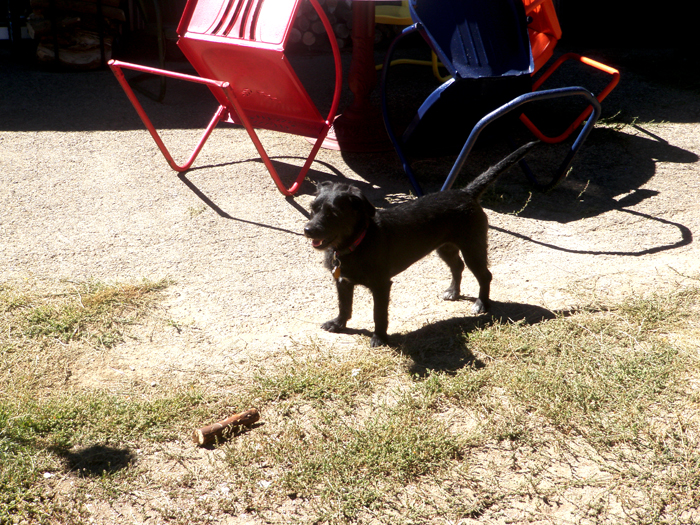 Franny visited us on Labor Day Weekend 2014. She is a hoot! Believe it or not, she is part Lab and part Terrior.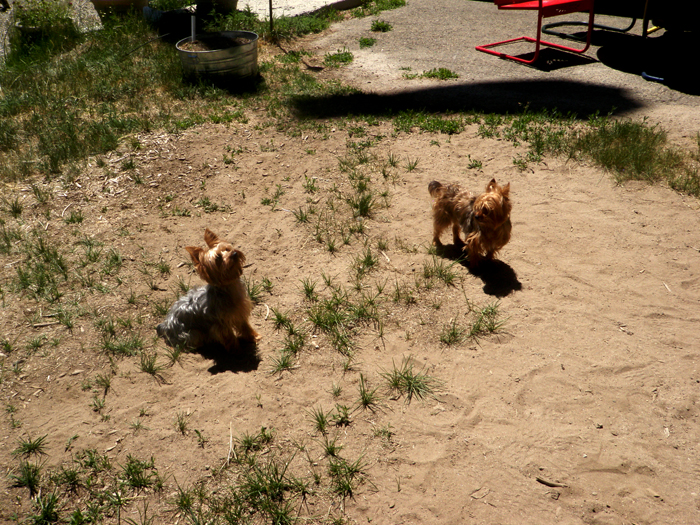 June 2014 we had a visit from Chip and Belle. What cuties these 2 were.
Zinka and Suzie came back for another visit this June 2014. Here is Zinka on Dome Rock, no fear!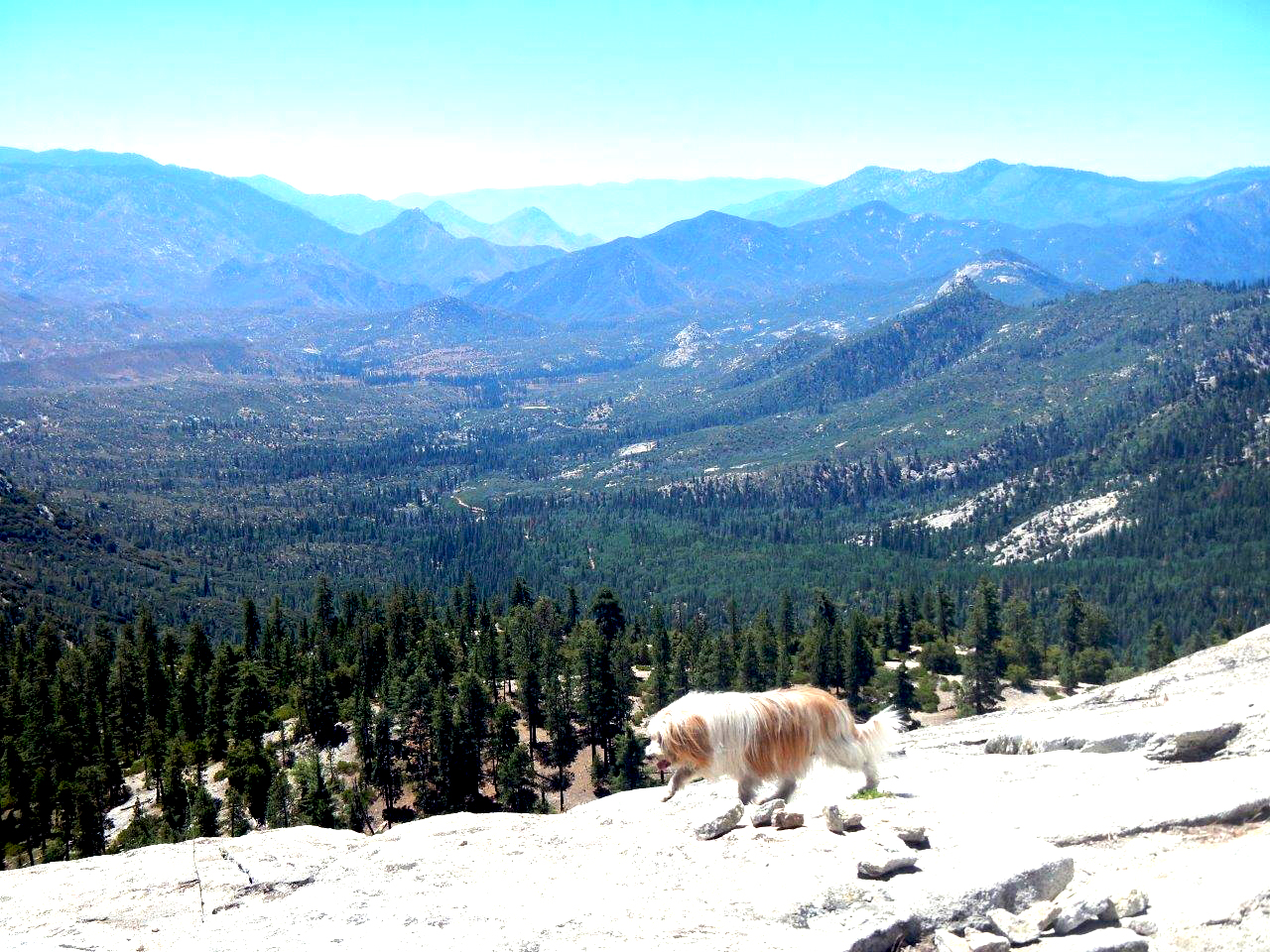 June 2014 and we had a visit from RUPERT "The Mighty Dog" or he thought he was. What a cutie and he seem to be having fun. Here are some pictures of him with Aaron and Anne at Dome Rock.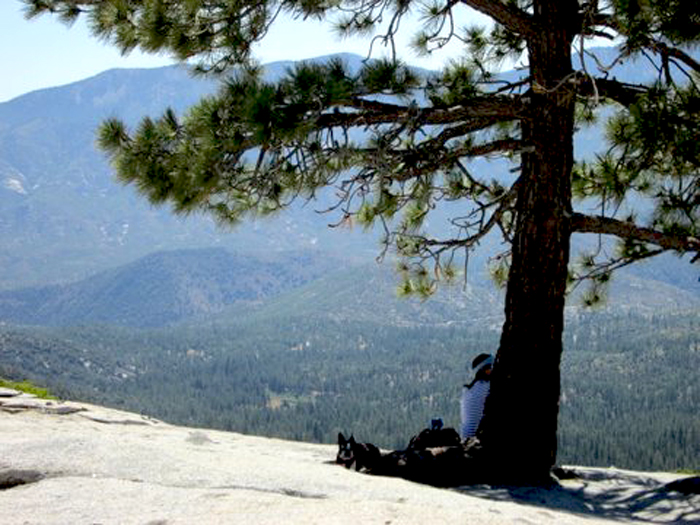 Anne and Rupert overlooking The Kern Canyon from Dome Rock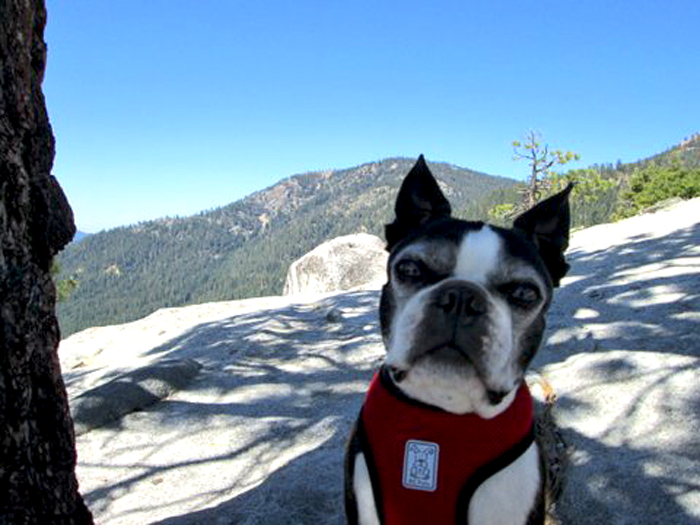 I know I am just tooooo cute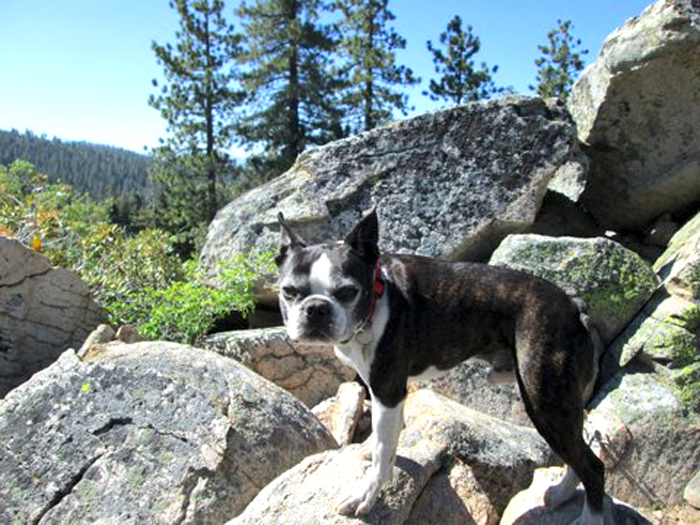 King of the Rocks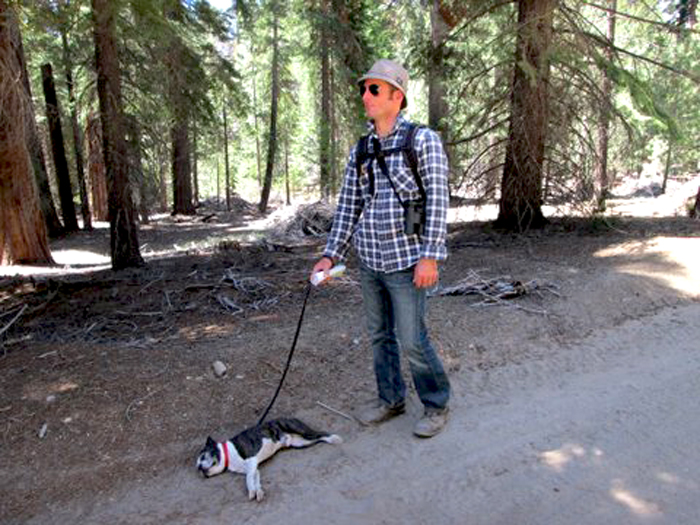 No farther!
Lilli and ducks in Kramer Meadow April 2014
Probably Lilli and my first hike in a year as it was about one year since the nerve pinched.
<![if !vml]>
<![endif]>
This female mallard let Lilli get almost next to her before she took flight … but Lilli seems to have that ability.
<![if !vml]>
<![endif]>
Yippee!
<![if !vml]>
<![endif]>
<![if !vml]>
<![endif]>
WHEE!
<![if !vml]>
<![endif]>
Could have been a great shot of the duck was faster!
<![if !vml]>
<![endif]>
This address goes to the cabin. To reach me both at the cabin and in Santa Barbara: Trebe@Cox.net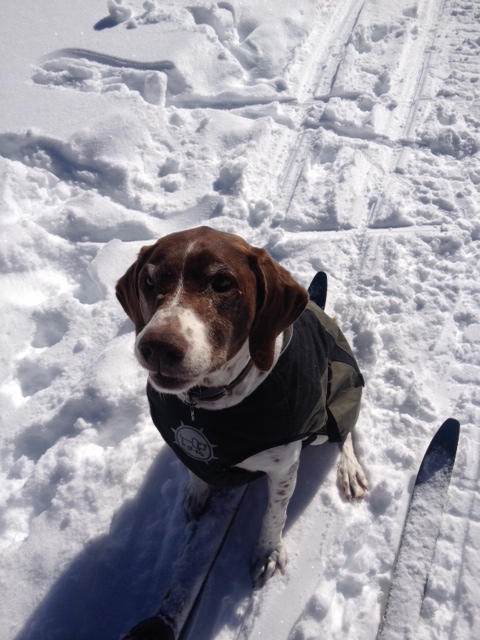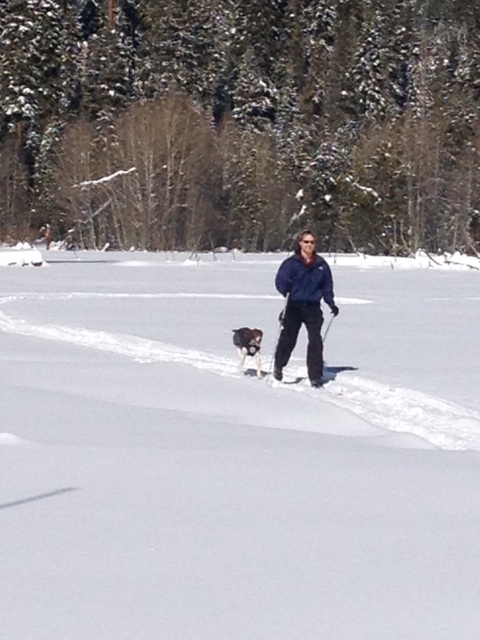 These 2 pictures are from guests that came and stayed at Annie's Piggly Pines and took advantage of the easy access for cross country skiing. Alpine had her jacket on and just loved following behind Barnaby making a path in the snow. Alpine is 14 years old (2013)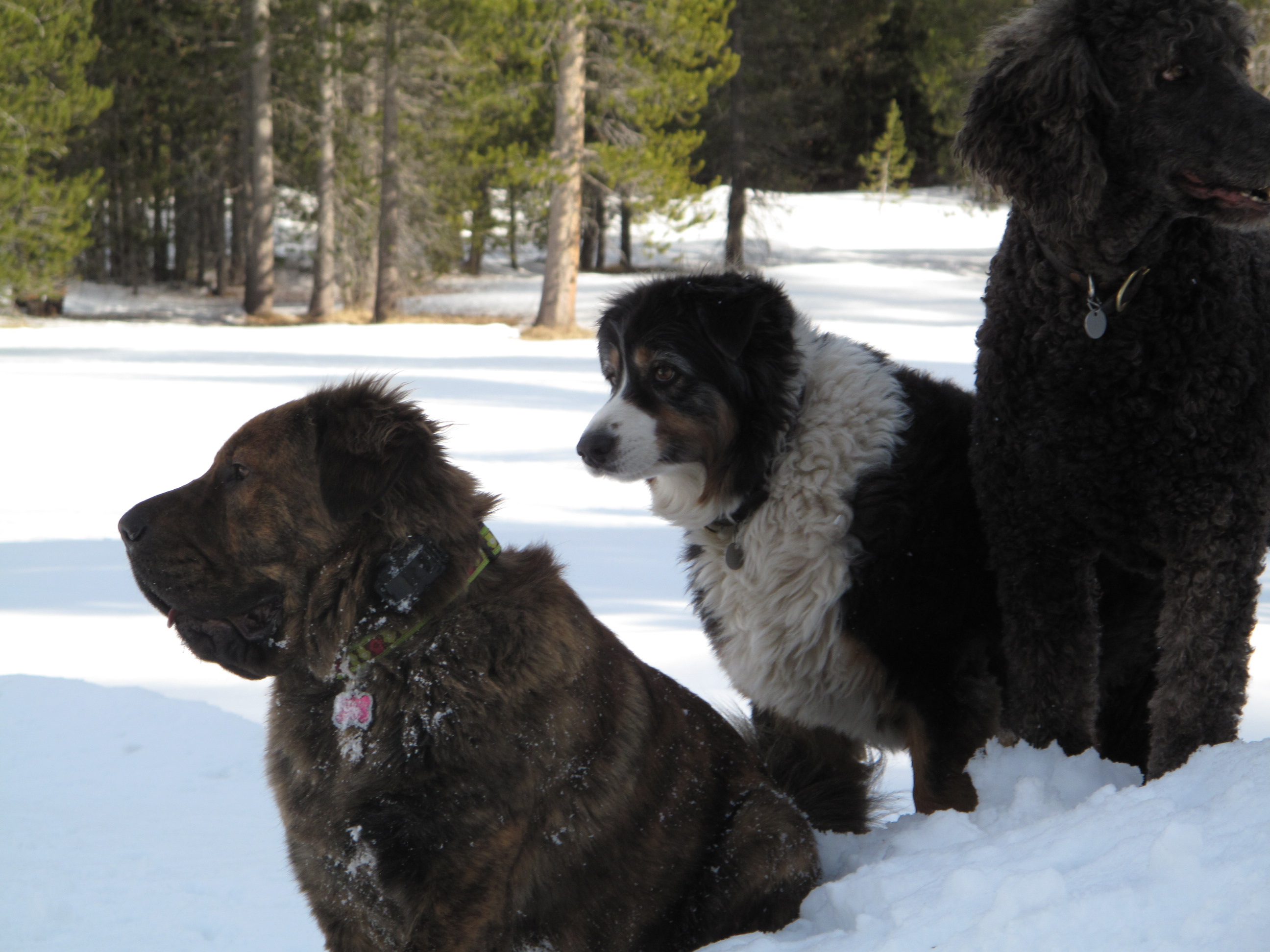 Our friend Kathryn's dog Charlie and our Hiway and Mohawk are hanging out in the snow. Charlie is a rescue dog and just the most loveable dog you would want, beside being such a character and a beauty....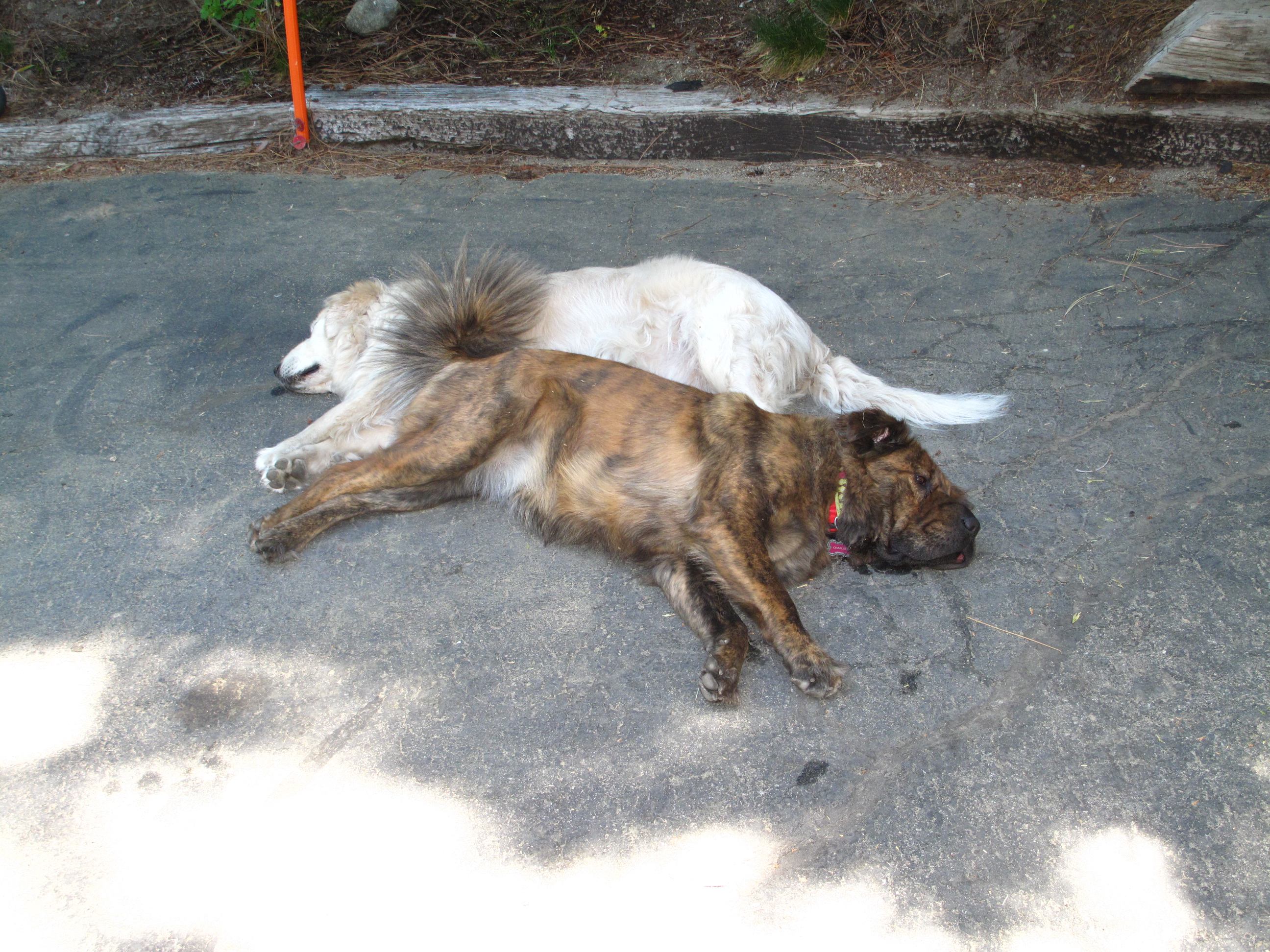 Here is Charlie snoozing with her pal Lilli (our friend Trebes dog). Lilli is the greatest dog you would ever want to meet. She is quite a hiker with Trebe.
The next 4 pictures are of Suzie and Zinca (both rescue dogs). They had an absolute blast running in our meadow. Their owner "Jonathan" also took a picture of our dog Hiway down in the meadow, she went on a walk with them. Hiway is also a rescue dog, John found her on Hwy 99 in Bakersfield.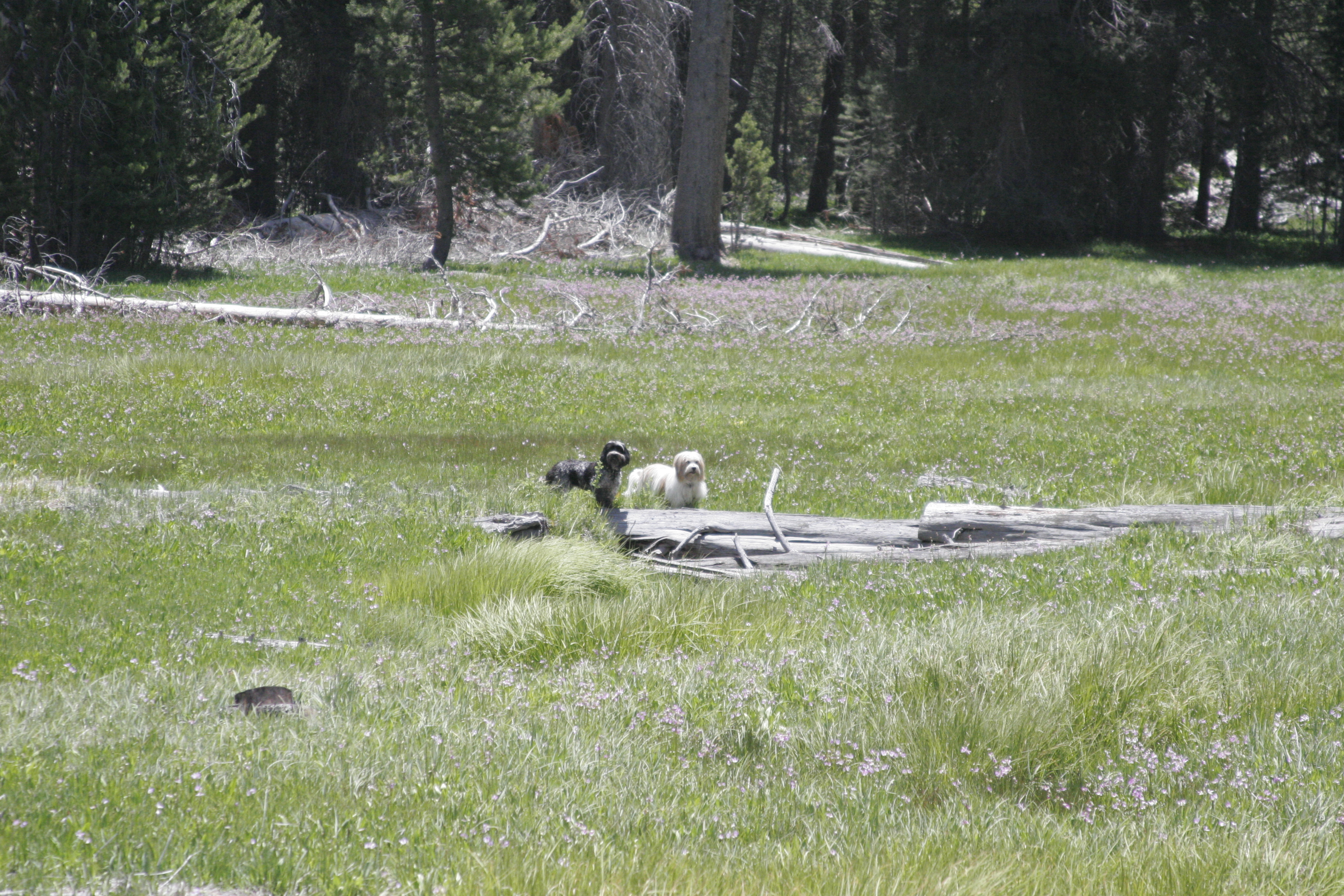 Zinca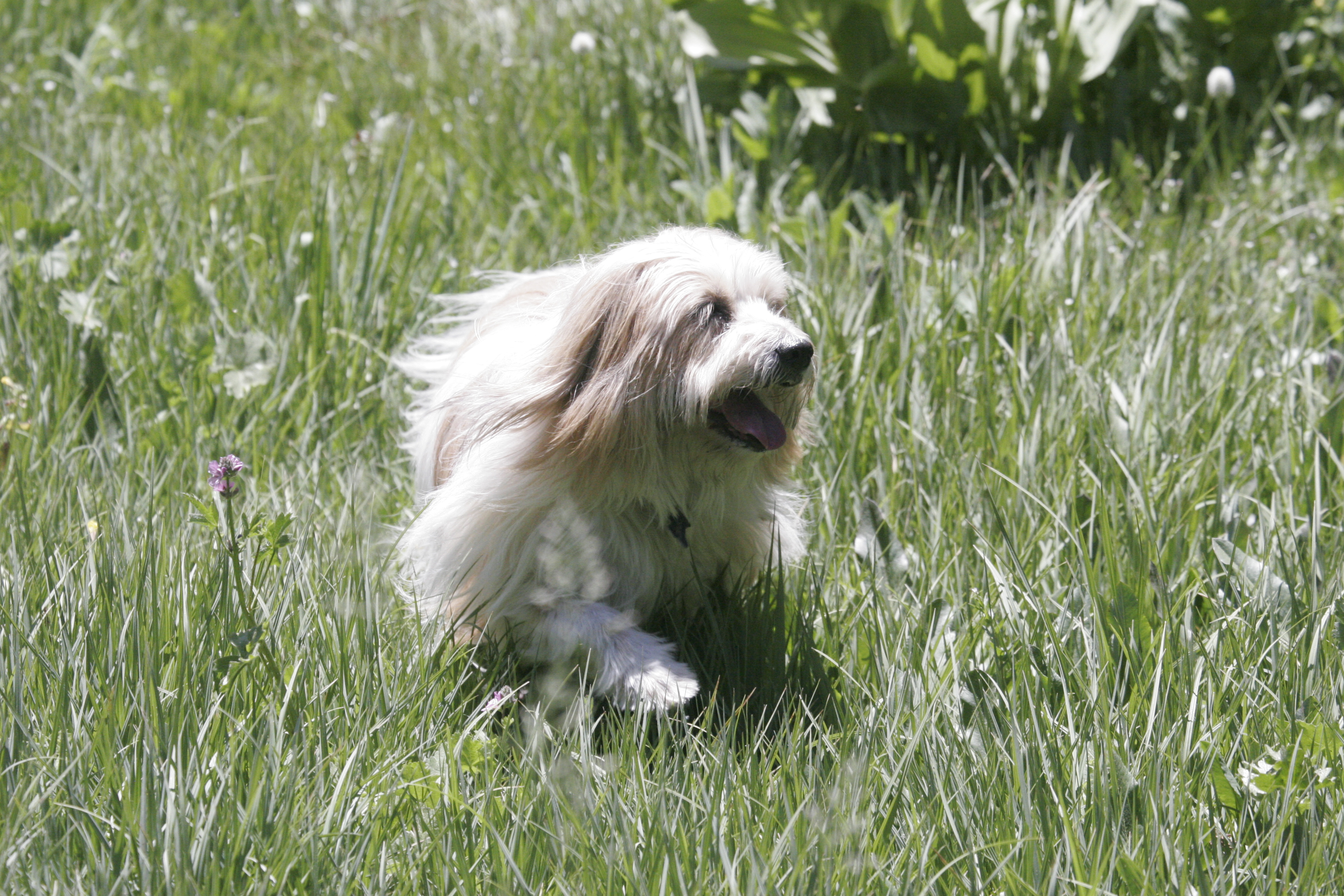 Suzie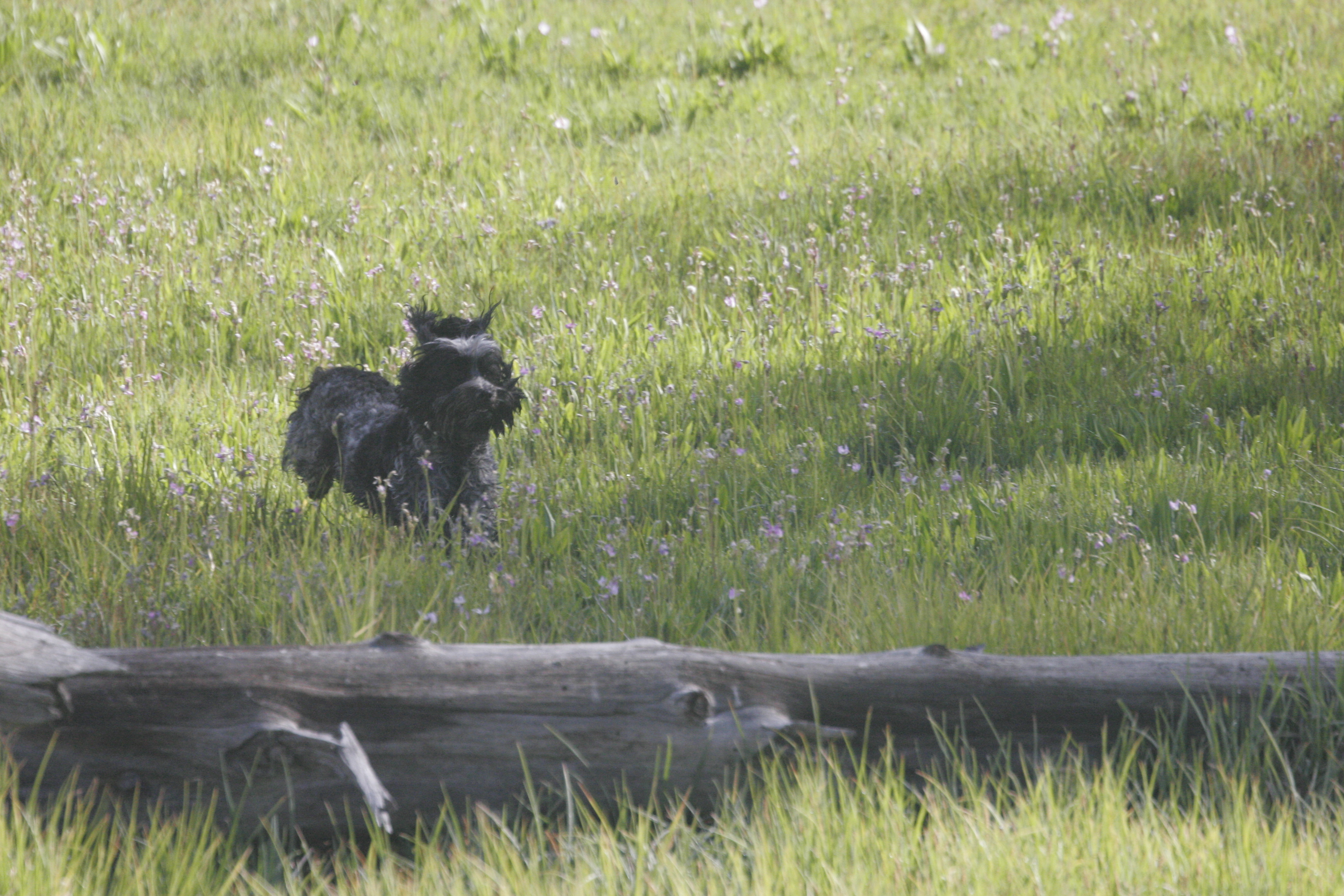 Hiway
The following pictures are from Labor Day weekend 2010, our sons friend Doogie brought his lab up to play , he also is a pet photographer and took a lot of pictures up here, you can see them here Labor Day 2010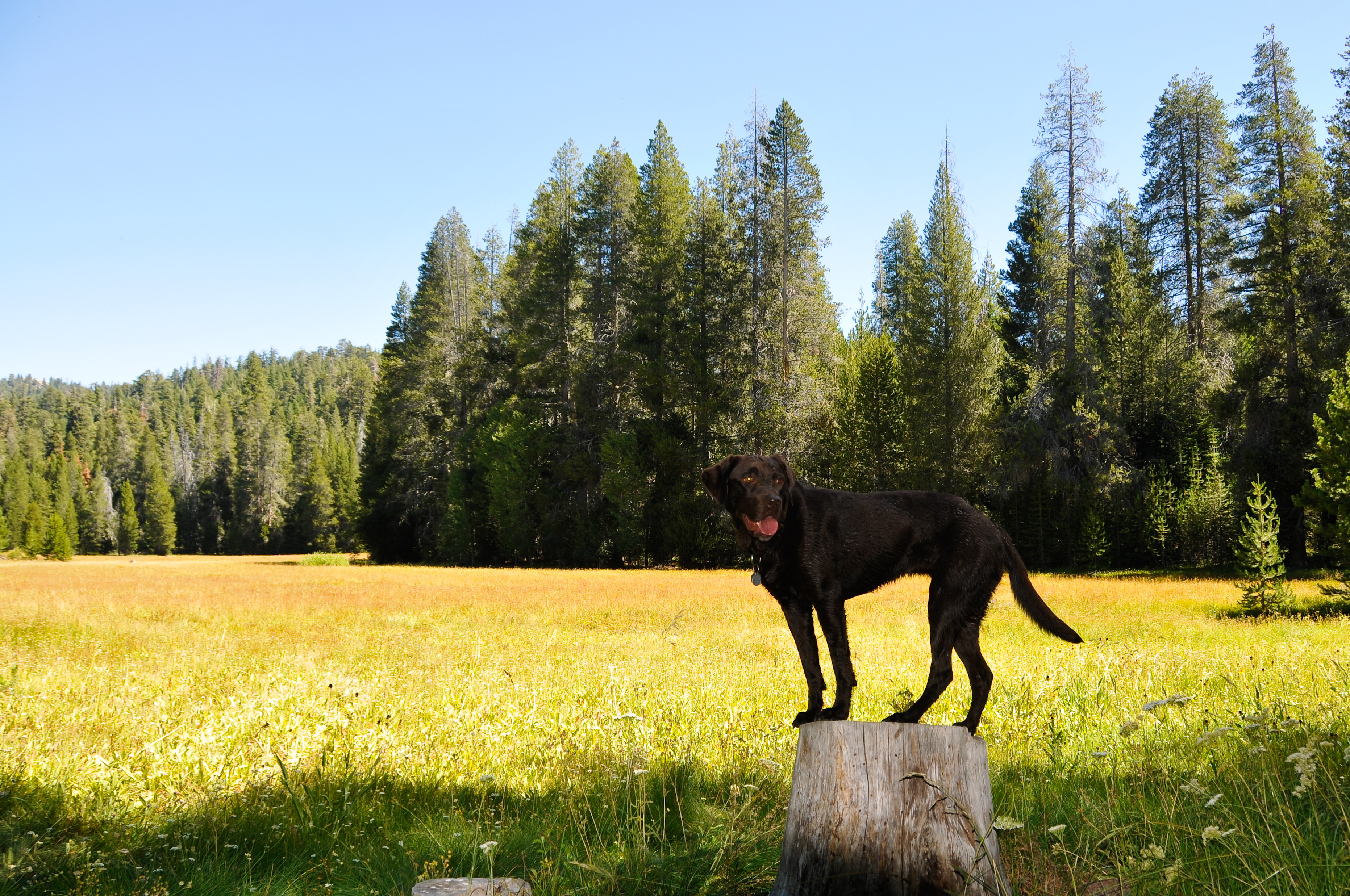 Doogie's dog posing on a stump at the bottom of the meadow.
The dogs found a pond, and of course they all had to go in.
The below pictures are from Christmas 2010. Bill's (our son) Audi is under that pile somewhere. Lucas is helping him and here comes Hiway and Mohawk coming from the cabin to help.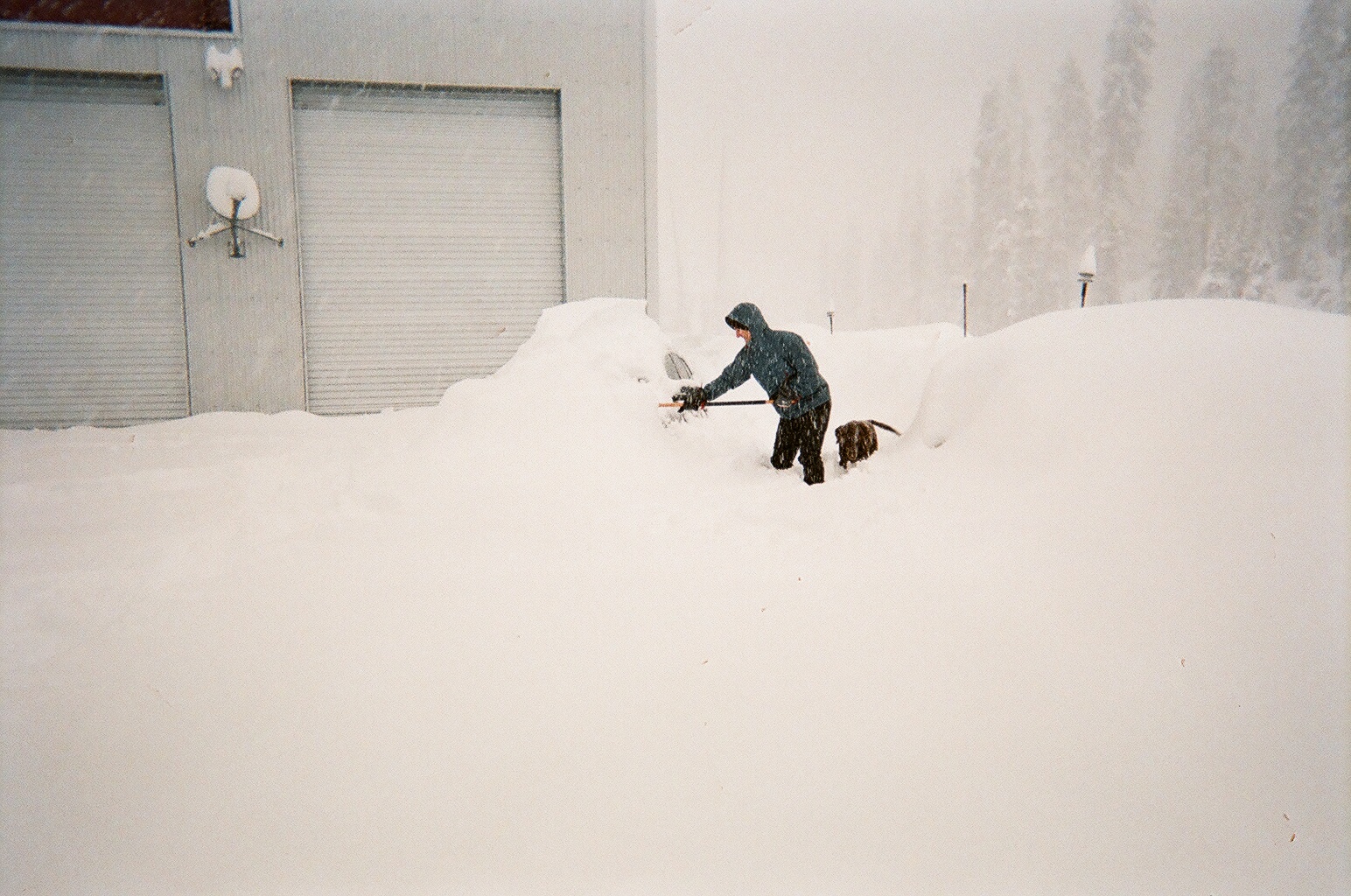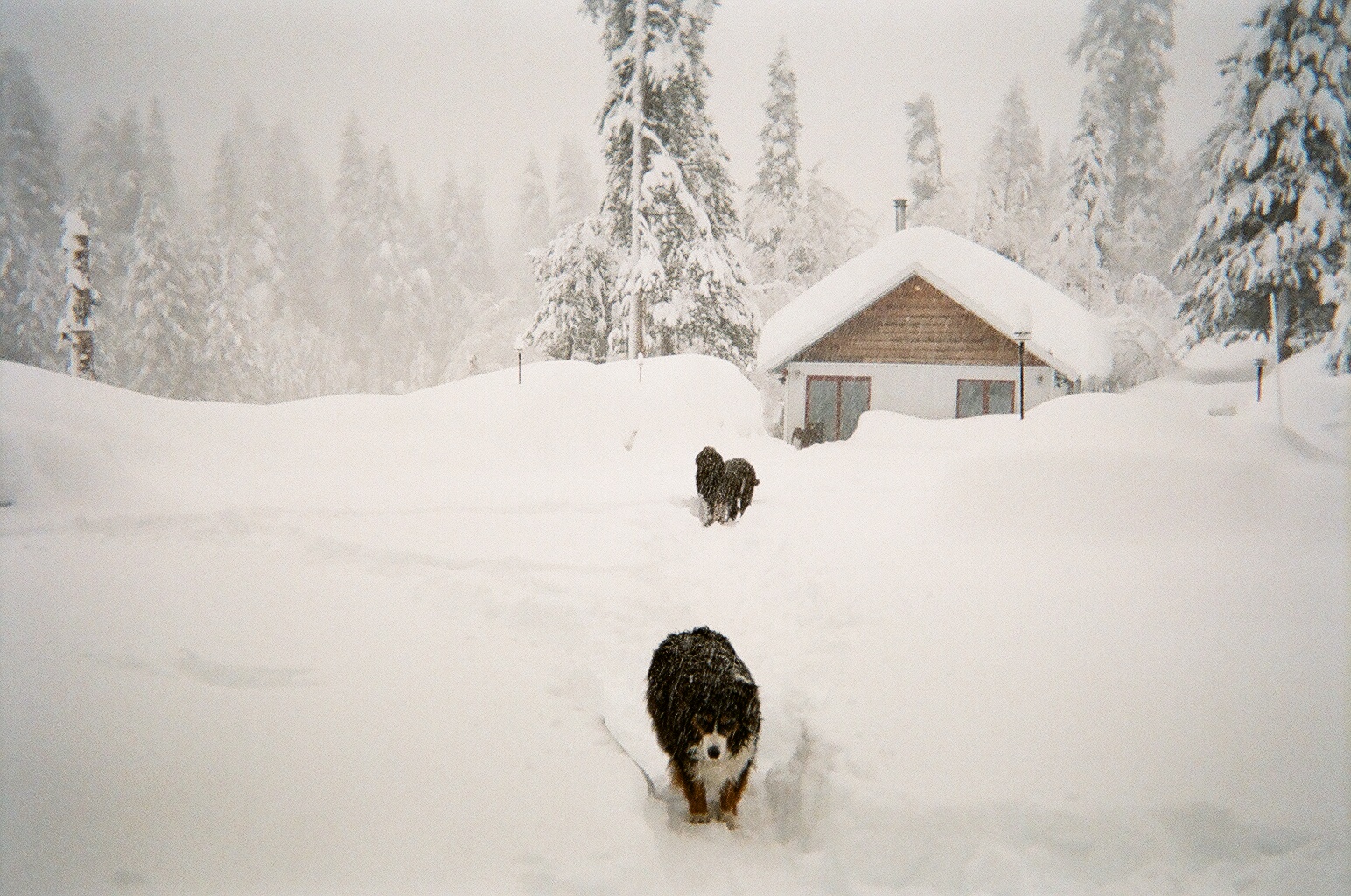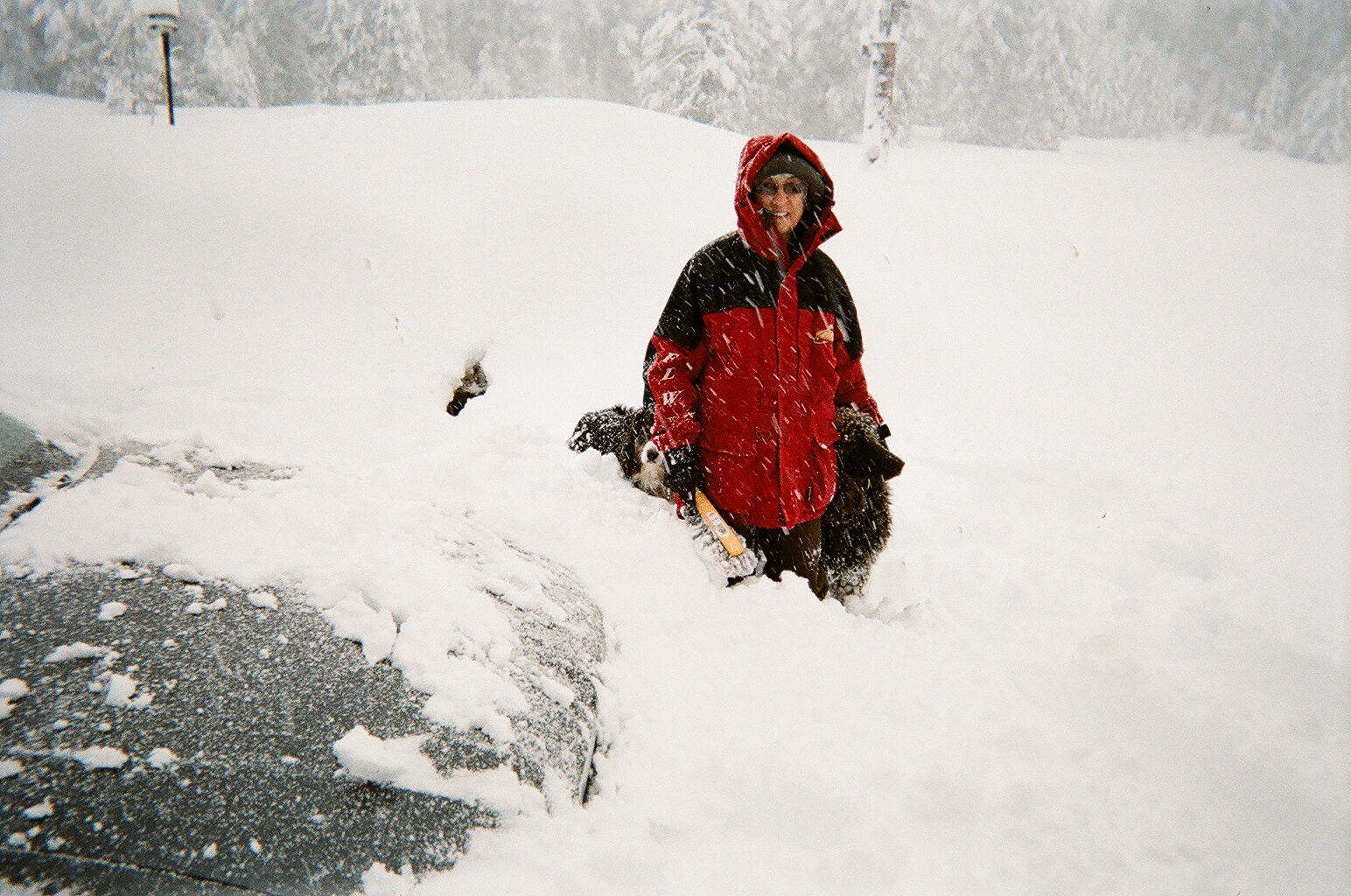 I helped too with our dogs, it was really snowing. You can see all these pictures at 2010 Seasonal Pictures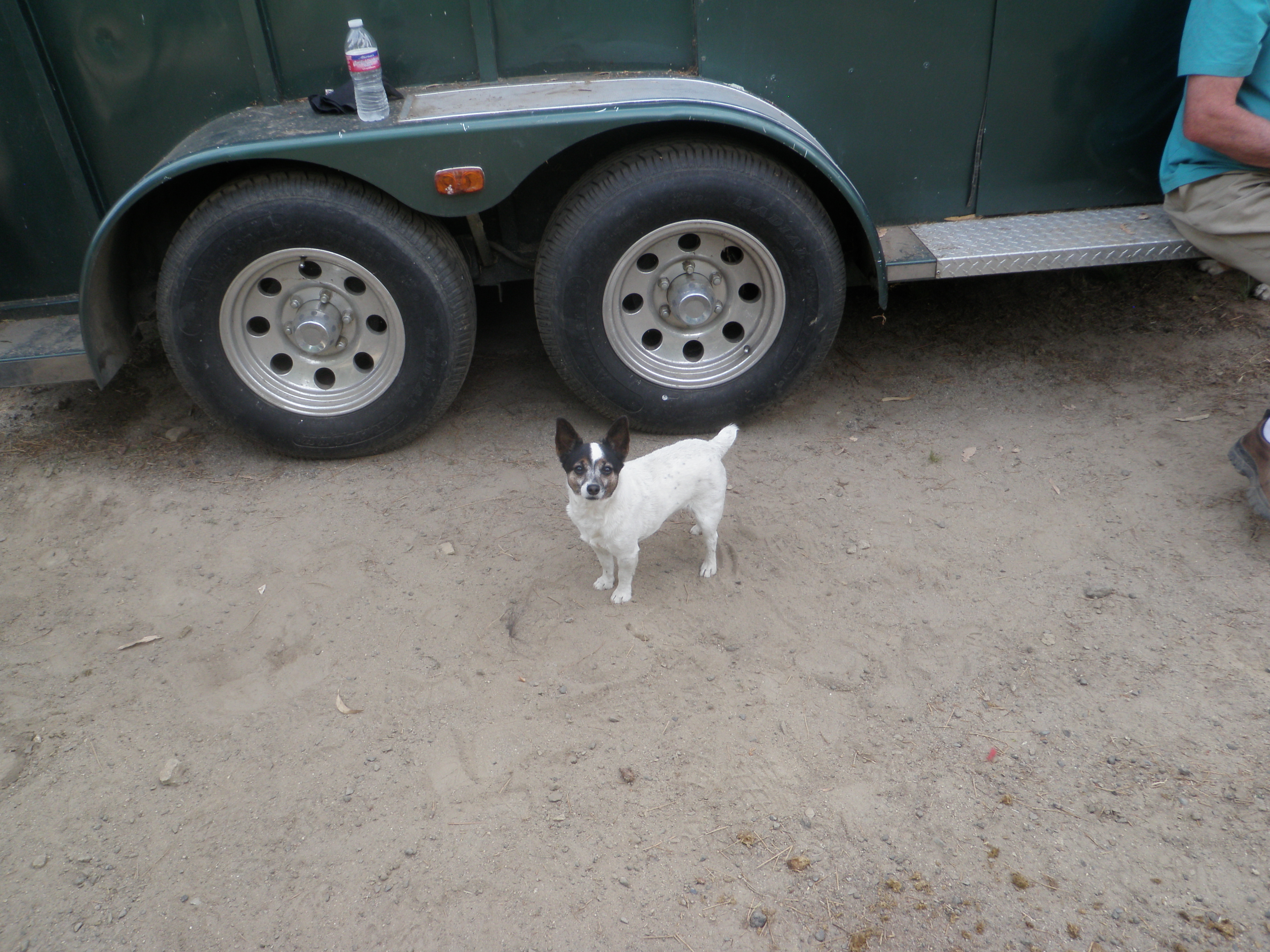 This is mighty dog!!!! EJ, he thinks he is the boss of everyone, he is a minature Jack Russell 2013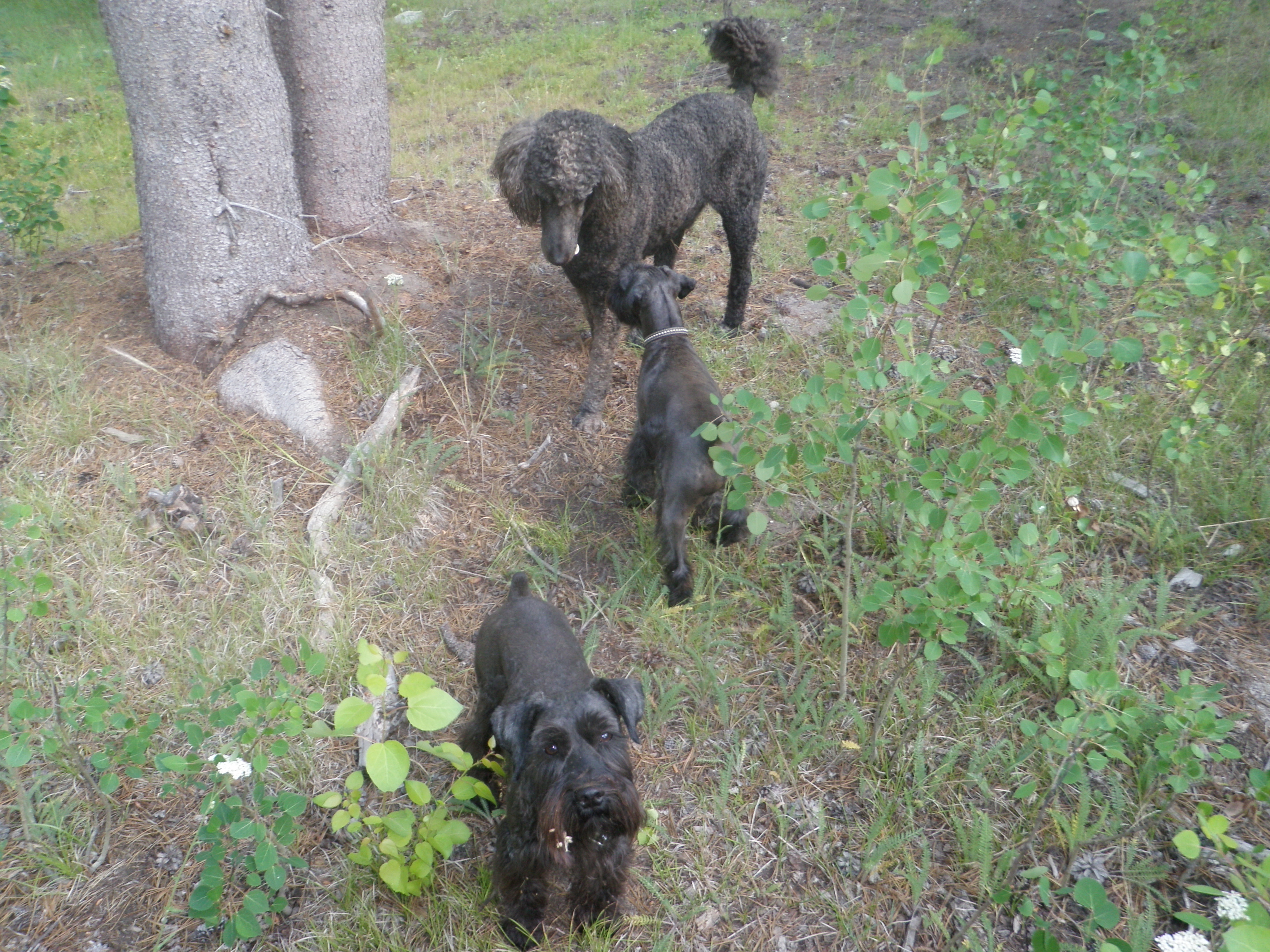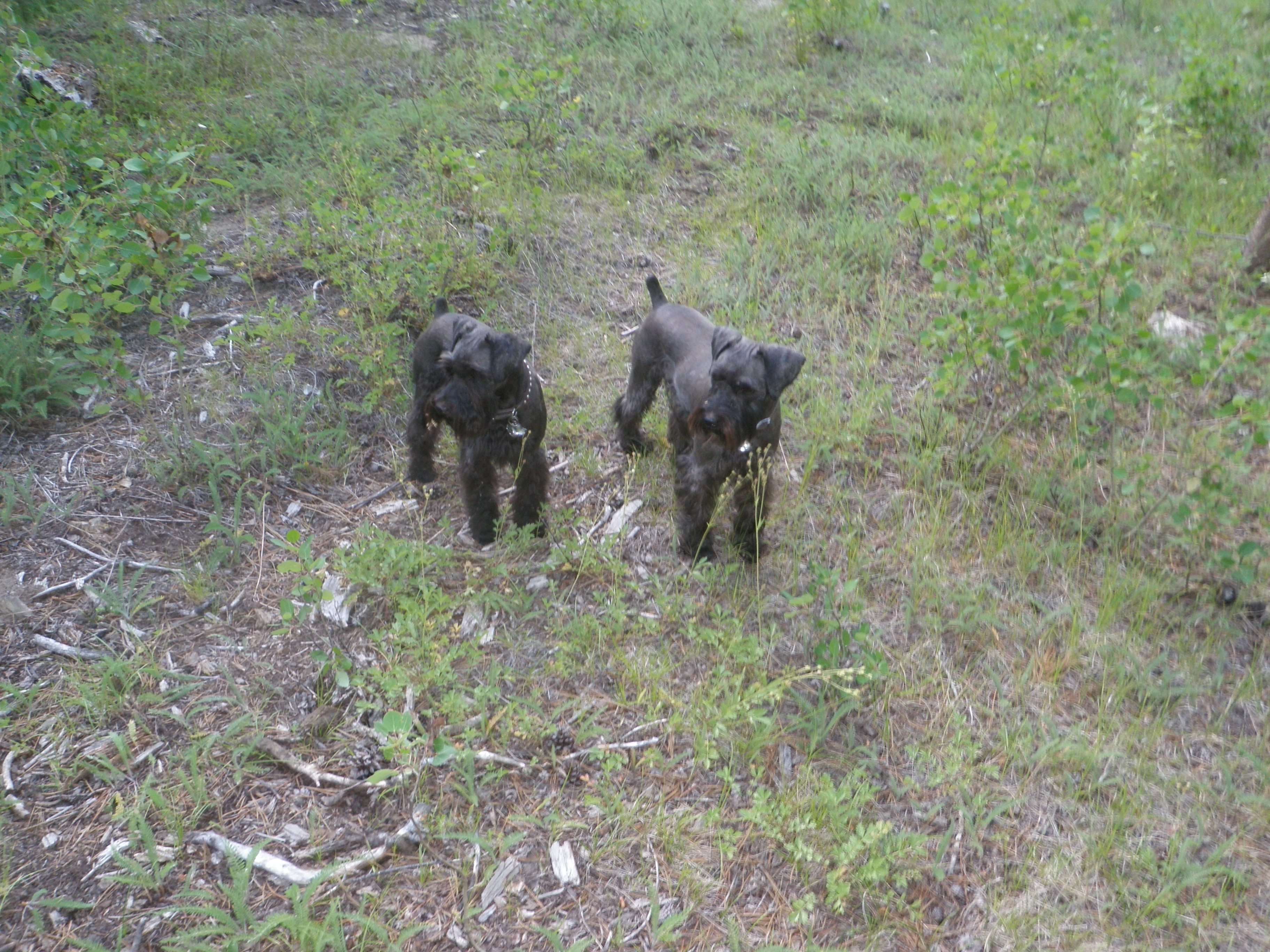 Mohawk with Bear and Boo, they are miniature snauzers 2013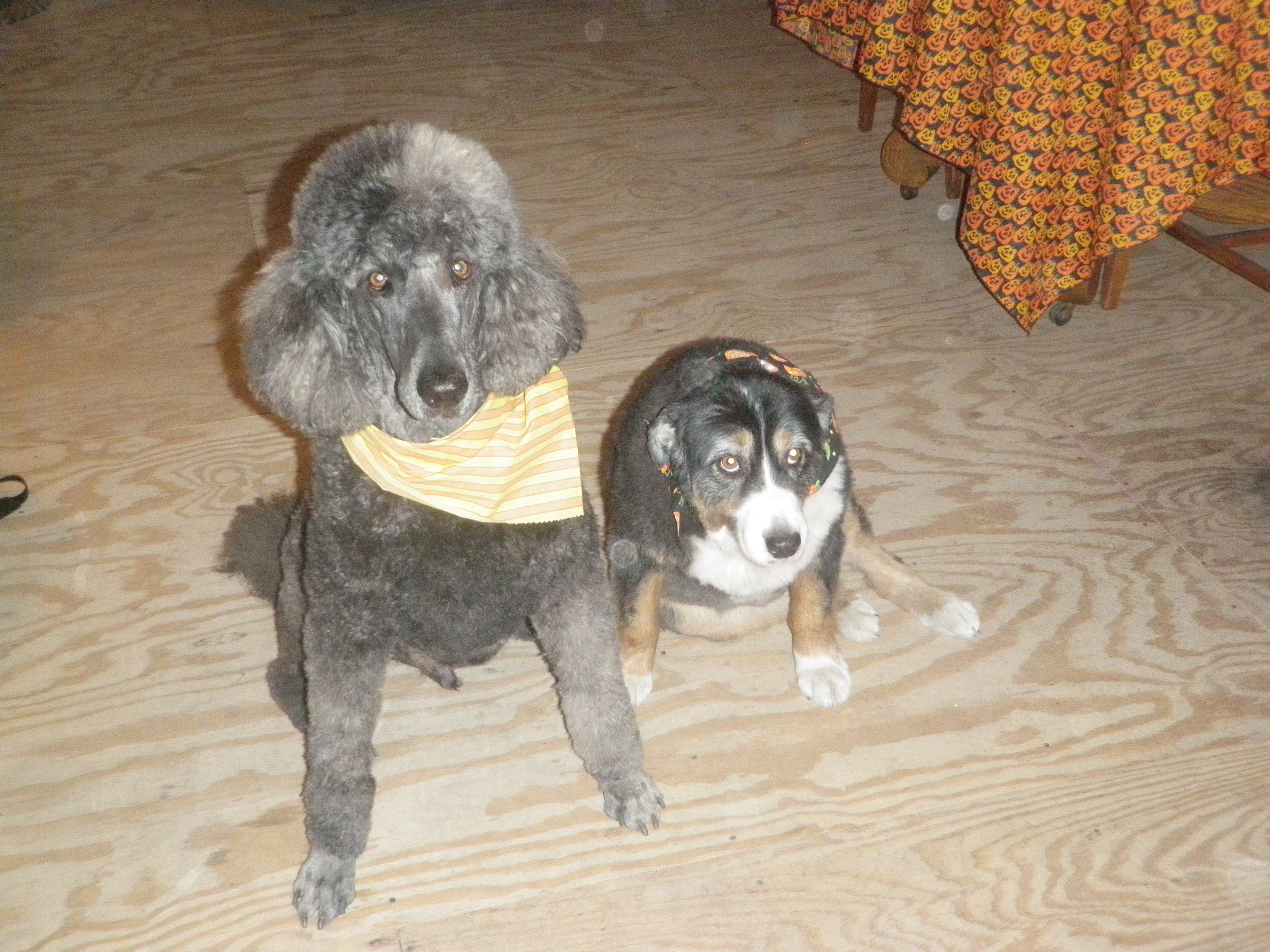 Mohawk and Hiway back from the Doggie Beauty Parlor (Debbies k-9 Grooming in Porterville) They are ready for Halloween in their fall bandanas. Oct. 2013
More to come
February Presidents weekend 2014 - Alpine came back for her 3rd. visit and brought a friend of hers, a 1 1/2 yrs old Golden named Sula. Boy did she love the snow. Alpine loved being back and will turn 15 in April. She still took long hikes and played with Mohawk and Hiway. The 2 pictures below shows all the dogs and Kelli.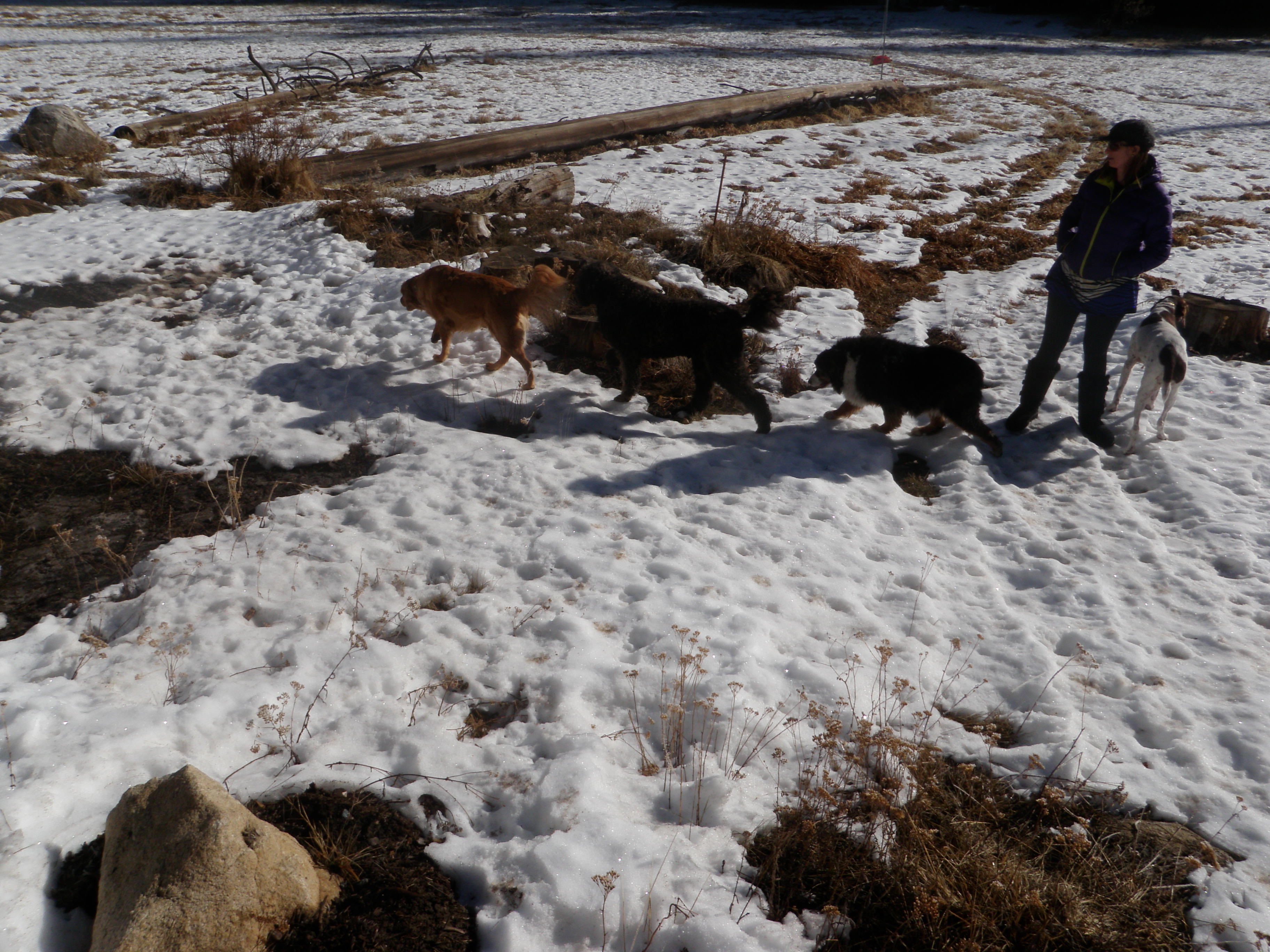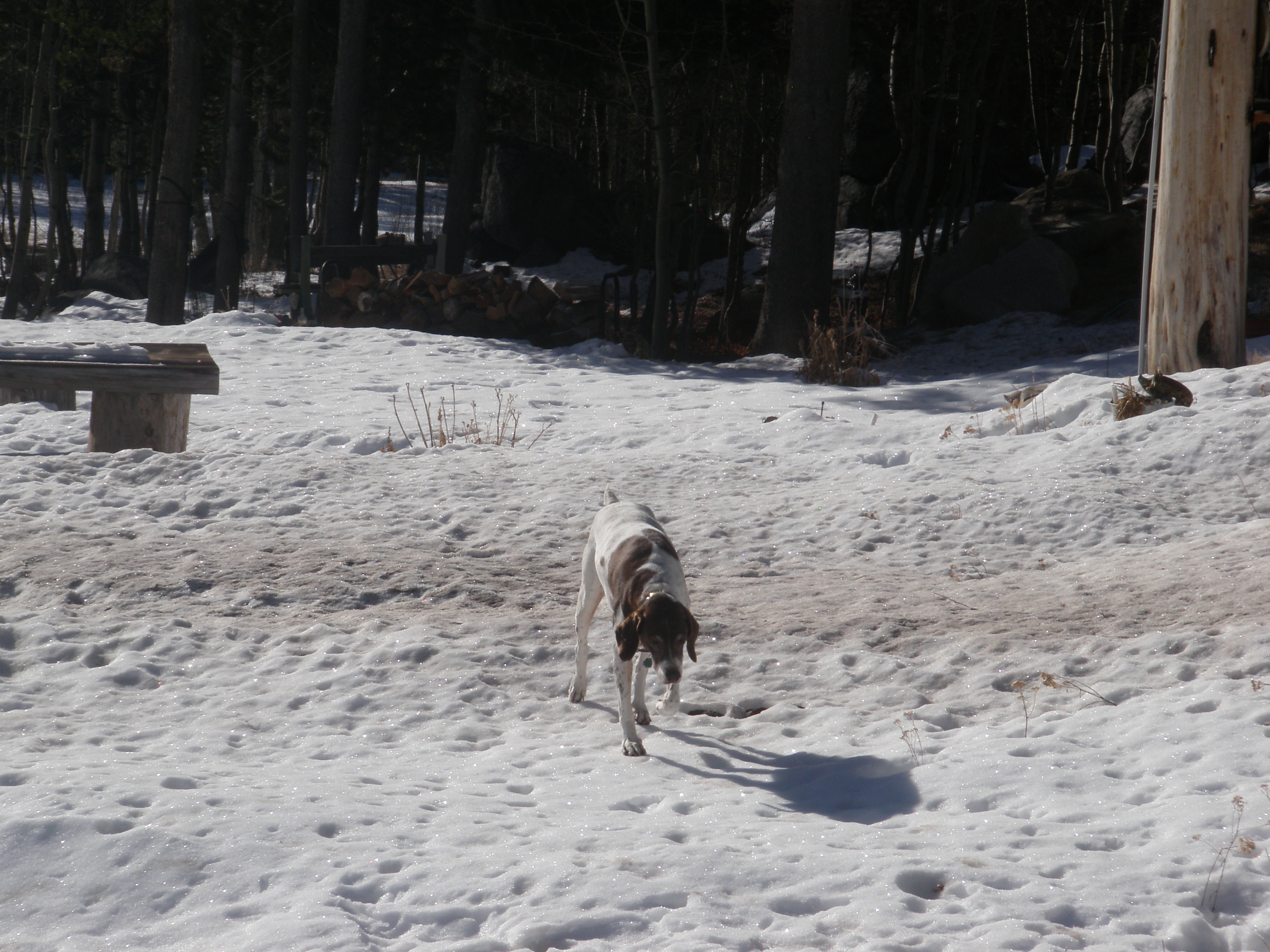 Mohawk and Sula ran and played everywhere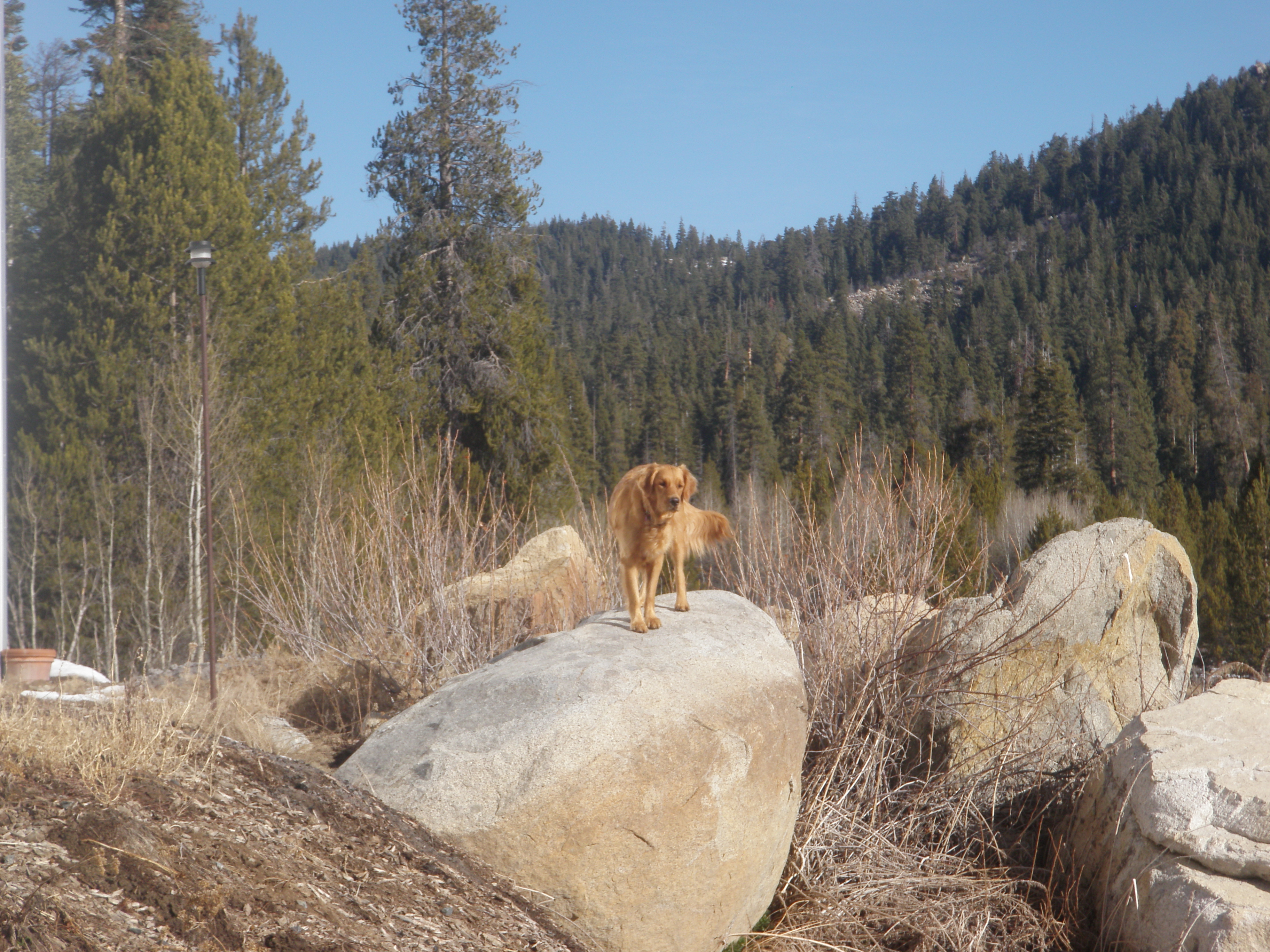 Sula Queen of the Rocks
1 Resident Cat and Simba is a One of a Kind!!!! Simba is Johns cat .
We were out in the meadow taking a picture of a saddle John had just finished and Simba decided he would do a stalking trip out to us.