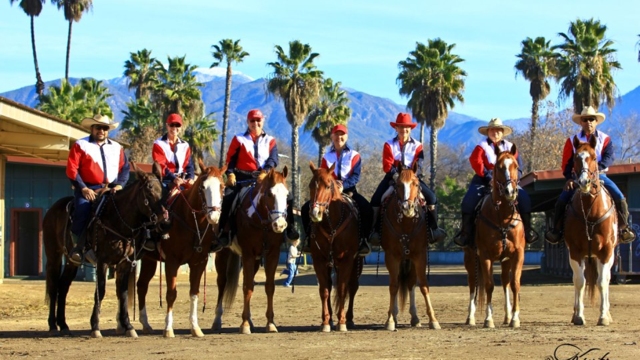 The Fab 7 - Horse Expo Pomona 2013
Left to right: Orlando, Teri, Mary, BJ, Nancy, Vickie and Jose
THE FABULOUS SEVEN (OR THE FAB 7) - This year we have 7 riders - they range in ages from mid 30's to 70 years old. Most are grandparents. Click here to see them at their final practice before the Pomona Horse Expo in Pomona Jan. 31st, Feb 1st, and Feb 2, 2013 Fab7 Practice
1. BJ: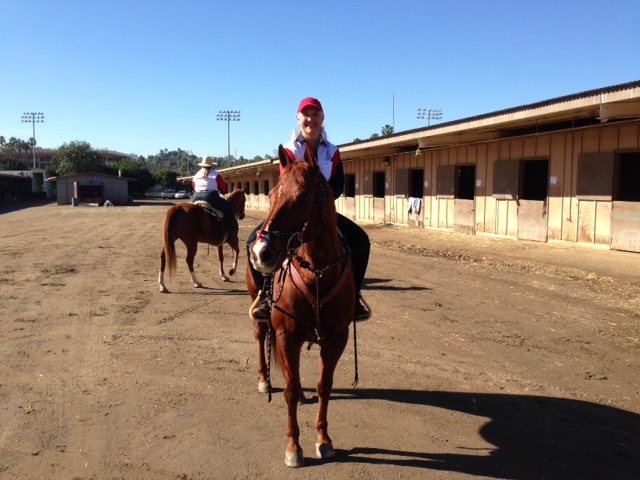 Bachelors Degree and Teaching Credential: UC DavisMasters in Education: Fresno Pacific University 26 years teaching. Taught high school for over 21 years and now teaching at the middle school as a Resource Specialist. Currently lives in Strathmore, CA with husband Bob. Riding horses since age 13. Riding disciplines: Equestrian drill (Kaweah River Senior Drill Team, President), team penning and sorting, reining (Valley Cow Horse Association), extensive packing in the Sierras. Harmony Performance Horses is her business name - She breaks and trains all her own horses (she has trained at least 28 horses in the Boz system, putting at least the basic handle on each. 10 of the 28 were her own horses that she has either started and sold or kept). Favorite pastime: Riding with her 2 beautiful grandchildren. She has been riding with Boz over 20 years and hosts with her husband Bob, Bozzage Clinics at their ranch in Strathmore.
2. Jose: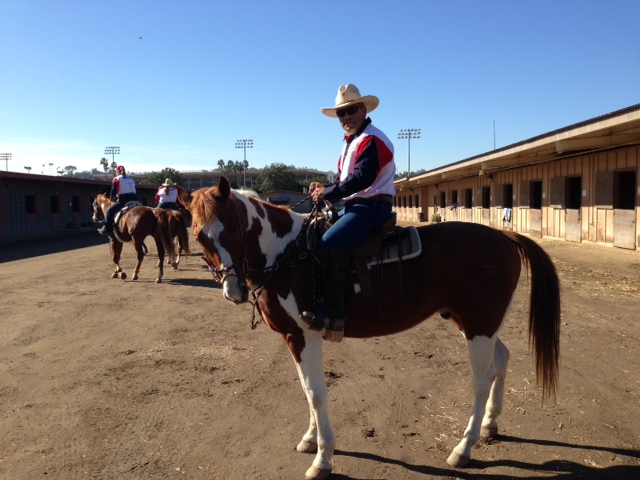 Attended Patterson High and College Chabot - majoring in Drafting, Retired from the City of Pleasanton, Volunteered for the Contra Costa Equestrian Search and Rescue, Former Volunteer of the East Bay Regional Mounted Patrol. Member of the Sonoma County Trail Blazers. Has been to numerous Bozzage clinics and also has taken Bozzage Trimming and Shoeing Clinic. A fellow member of the Fab 7. Enjoying retirement with his wife, grandson and grandchild.
3. Teri: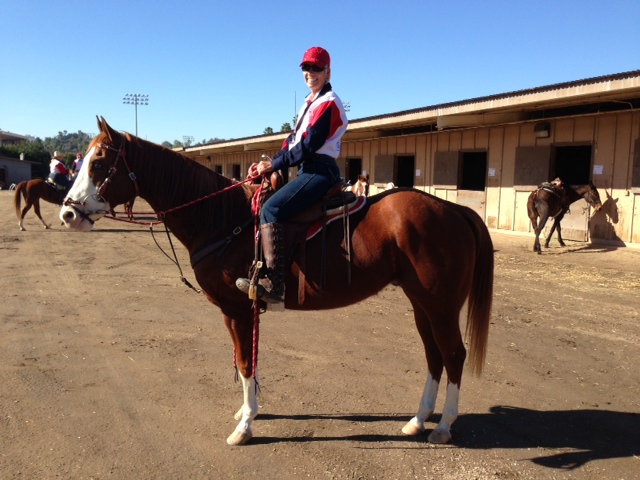 She has been riding 21 years starting at the age of 37. She has done trail trials, cow sorting, team penning, cattle drives, barrels, gymkhana, extreme cowboy obstacles, match racing and now Mounted Shooting. Her goal for her horse is to be an all around horse. Married 33 years, 3 sons and 3 grandchildren. Attended Cal Poly with a degree in Construction Management. 10 years at Pardee Homes - Superintendent where she manages the construction of residential homes. Total of 29 years in construction
4. Vickie: No picture. She was too shy, she is the 2nd from the right in the group pictures above.)
Self employed for 20 years. Recently retired. Drove a school bus and worked with Senior Citizens 15 years - Was a Volunteer for the East Bay Regional parks and also was Volunteer for the Contra Costa Search and Rescue. A very very proud Grandma. Married to Joe for 39 years a fellow member of the Fab 7
5. Orlando: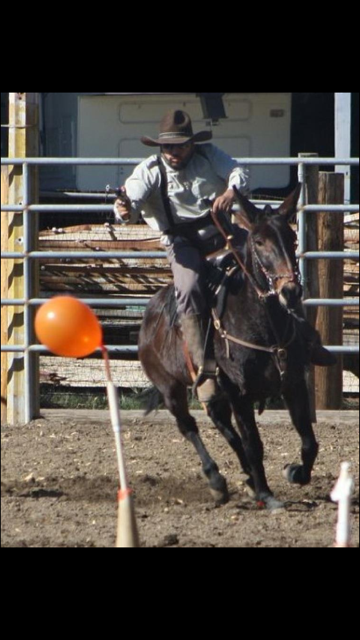 We missed getting an individual picture of Orlando in his shirt, this shows Tulip and Orlando doing their stuff.
Born and raised in California, while in high school was part of the FFA program, raised beef cattle, dairy cattle, sheep, goats and pigs. Graduated with a Bachelor's of Science degree in Animal Science from Cal Poly, Pomona. Also studied agriculture abroad in New Zealand for about a year. Worked as a sales rep for PM Ag, under O.H. Kruse grain and Milling and the Sweetlix division, currently working as a production and sales manager for C and M Glass Company of Los Angeles. He has been riding horses since the age of 13, and recently acquired the mule about 4 years ago. He has been a Bozzage student for the last 10 years. He has also taken Bozzage Trimming and Shoeing clinic. Rides in Mounting Shooting, Gymkhana and Rodeo Horse Racing and other agility sports.
6. Nancy: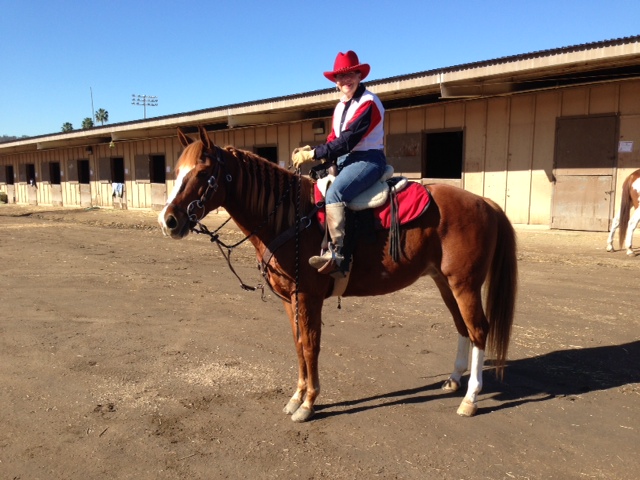 Born and raised in Visalia, graduate of Mt. Whitney High School and attended College of Sequoias. She has been married to Randy for 51 years, they have a 1 daughter and 2 sons and 4 grandchildren . She rode with the Visalia Rockettes Jr. Drill Team when team was organized in 1955 until 1960. Club is made up of young girls age 10 to 18. They've held more than 45 California & Western States Junior Drill Tea Championship titles since the club began. The team has consistently been amount the top 2 competitors at the various competitions they participate in. During 2005 a team of 16 riders traveled to Canton, Texas to compete and came home with 4 1st place awards and the Overall Title. In 2009 they traveled to Duncan, OK. For another Drill Team competition and won 1st place in the Jr. Division. Drill master for the team since 1969 - Retired January, 2010. She has been in the banking field for 40 years, 28 years at Visalia Community Bank, currently Asst. Vice Pres., Corp. Secretary. Active on the Board of Directors of the Backcountry Horsemen of California, High Sierra Unit (Tulare County, CA) Since 1985 have taken at least 1 and sometimes as many as 6 different pack trips into the High Sierra each year with my own horse and mules. The majority of the trips are with other women and/or family, all who have the same love of the beautiful back country. Drill master and riding member of a Sr. Drill Team, Kaweah River. Member of the Cowboy Cultural Committee which presents a Cowboy Poetry & Music Show during October each year. Hobbies include: Training young horses & mules, knitting, scrap booking, making own jewelry and working in the yard. Nancy is one of our newest Bozzage Students and has been a student for a couple of years.
7. Mary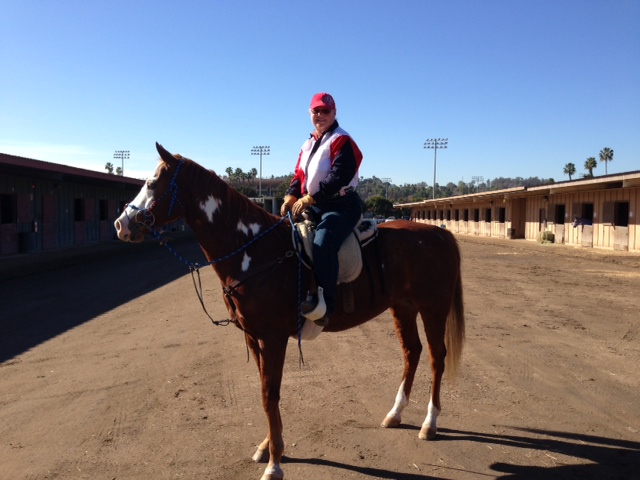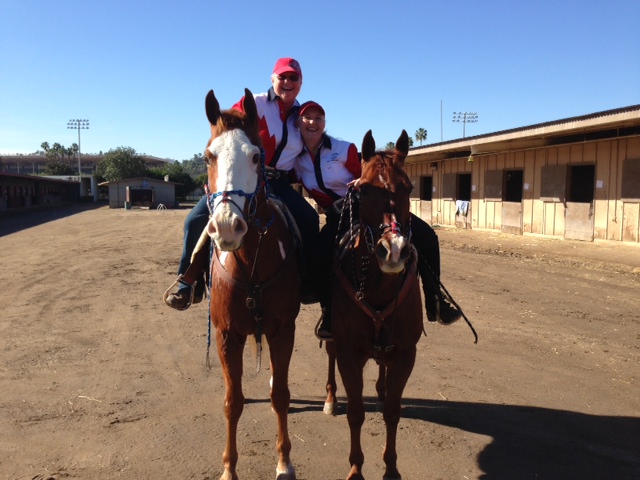 Sisters clowning around BJ&Mary
Married to Jerry for 23 years, mother of 2 sons, both veterans. Started riding @ age 35 after inheriting 2 horses from her mother. She has been riding Bozzage training system since 2003, enjoys riding equestrian drill, packing in the back country, trail riding, and training my horses in the Bozzage system. Mary has been a nurse for 30+ years , graduating from the College of the Sequoia's nursing program. She currently works at Veteran Affairs clinic in Stockton. Mary recently moved from Wyoming & enjoys the much warmer weather and lack of wind in California. Mary and BJ are sisters.