ďThe Famous So Called Chair SeatĒ Sit Verses Stand
With forward hung stirrups in front of your cinch and straight down behind the elbow of the horse, when you stand and go forward to the riderís grove as you can see here, now the stirrups are under you vertically to achieve Maximum Speed, Balance, Security, Agility, and Control. As you can see in this famous photo she would slide with no slide shoes, no slide boots, and no side ground anywhere from 30í to 45í all day long, and she was a 13-2 Spanish Barb one of the greatest horses I have ever had the privilege to ride. No one can do this with stirrups hung behind the cinch and under the rider which are designed to go at slow speeds like Western Pleasure or Dressage. We only set when we are walking and talking and not much gets done then other than figuring out where we want to eat lunch.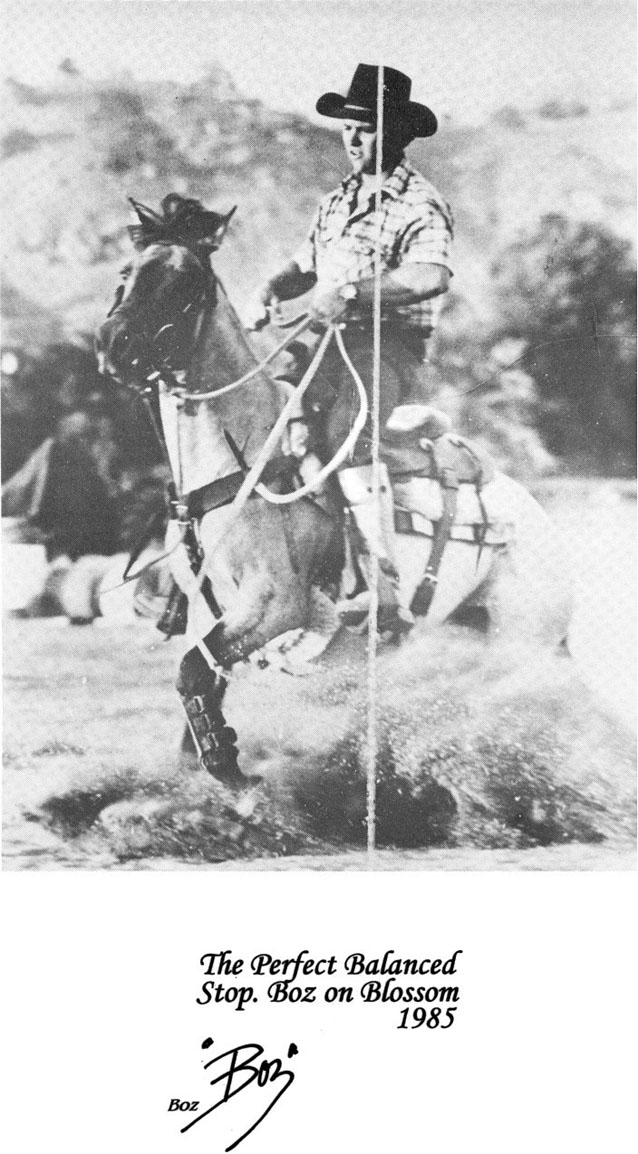 Bozzage
"It's the FOOTWORK that COUNTS" - "We ride on our FEET not our SEAT"
To achieve an all SPEED handle, which we call "BOZZAGE
"The SPIN stops HERE"
Boz Profile
There are 2 basic stirrup positions or placements letís take the first 1.
In this saddle the stirrups are forward hung, straight down from in front of the pommel, in front of the cinch, right behind the elbow of the horse. The cinch will lay behind the riders calf muscles for a security block, this position is for Maximum Speed for a Jockey, Maximum Balance for a Jumper, Maximum Agility for a Polo Player, and maximum Security for a Saddle Bronc Rider, riding the toughest Bucking horses on the planet. This stirrup position will give any rider more Speed, Balance, Security, Agility and Control than you have ever had before. Why does this work like nothing else, when the stirrups are hung straight down and right behind the elbow of the horse, when the rider sits down they will all look like they are in the so called famous donít do Chair Seat Position. But they are only there a short period of time only when they are walking and talking, when it is time to perform they all stand up and go forward to their stirrups which are now straight under them and not behind them, not the case in all rear hung stirrups behind the cinch and under the rider while seating and walking and talking, their stirrups will go behind them when they all stand up and go forward to the riders grove. There is a maximum balance line from the back of the horses elbow straight up to get maximum Speed, Balance, Security, Agility and Control, every rider must have their Shoulders, Knees and Feet on this line as you can see in the photo of me sliding my great horse Blossom or they will never get must done and have more problems than you can shake a stick at. You will notice every rider when they are done they all will sit down and because the stirrups are hung in front of the cinch they will all be in what looks like the famous donít do Chair Seat Position. When they all are in the sitting position you will notice all of them will have their Knees and Feet already on this balance vertical line, it is only their shoulders that are not their because thatís how we sit at the breakfast table, not when we start to play Polo, Jump, Race, or ride a Bucking horse. So really when it is time they only have to move their upper body their Shoulders forward to the balance line or what we call the Riders Grove because their knees and feet are already there. Also if we take the time to look at the Vístyle stirrup leathers on these Boz Original Balance Ride Spring Flex Saddles, because of physics the rider can place the stirrup in the forward position press down and the stirrups will lock it that position. If they pull the stirrup back with their feet to the middle position and push down they will lock there and if they want the stirrup under them then just pull them back with your feet where you want them, press down with your weight in the stirrups and they will lock under you. So where ever you want the stirrup, Forward, Middle or Back under you just place the stirrup there press down and ride like there is no tomorrow. There is no other saddle in the World that can do this for the horse and rider, and this is why we are #1 in the World and why the top 1% riders in the World all ride in a Boz Original Balance Ride Saddle.
So now letís look at a saddle with the stirrups hung behind the cinch under the riders so called balance point on the widest part of the barrel of the horse with no cinch security block behind their leg like the forward hung stirrup saddles. This position is only for slow performance riding like Western Pleasure, and Dressage, as the speed picks up and the directions change fast they all have to hang on to stay on. They do not get maximum Speed like a Jockey, or maximum Balance like a Jumper, or maximum agility like a Polo Player and they never get Maximum Security like a saddle Bronc Rider, why because they all are riding on their seat and not on their feet. The loss of Maximum Control is so great because their stirrups are hung 8Ē back of the elbow of the horses they are riding, when they stand to try to ride on their feet they are so far back from the Riders Grove or the vertical line from the elbow straight up they look like they are riding double but the guy in front got off. Now here is the problem, they will have to try to come to our riding position where their Shoulders, Knees and Feet are on the vertical riderís grove right behind the horses elbow straight up. They will start to bend over at the waist and only be able to get their shoulders on this line, when we follow down the vertical balance line you will see that their knees and feet cannot get to this line balance position because the stirrups are hung to far back. Now you we see that they will have gone ahead of their stirrups, their knees and feet will be behind them and they will have to hang onto something or they will far off. Now if they just stand straight up from their seat they will look like they are riding double but the guy in front got off, they will lose all Speed, Balance, Security, Agility, and any kind of Control they may think they had, compared to the top 1% riders in the World who ride on their feet not their seat. So could anyone imagine arguing a point that they can follow anyone one at any Speed or direction if the rides are in a forward hung stirrup saddle. They could never follow them because their stirrups are hung under them, really, when they try to do more than what their saddle is not designed to do, they all fall forward on their heads. So the question is what is in your saddle, and what are you willing to do about it, if you really love your horse. Because the top 1% riders in the World the best riders in the World do not have their stirrups hung under them and those that do cannot follow them at any speed or direction but they can follow them, end of story. Here is the real problem that we need to really look at, if a person chooses to ride in a forward stirrup position and the stirrups are hung vertically straight down behind the elbow of the horse leave them there and go forward with your body and ride on your feet not your seat now they are under you. This position will give anybody and their horse more Speed, Balance, Security, Agility and Control like you have never felt before, never pull these stirrups back under you with a back slash from your knee to your heel under you, like they try to teach English Saddle Riders to do, they are designed to stay forward and we go to them, if you bring them back to you, you will come out of the saddle like Superman, go to the stirrups donít make the stirrups come to you. Now if a person chooses to ride a saddle with the stirrups hung behind the cinch and under the rider on the widest part of the barrel of the horse, please donít push the stirrup forward from the vertical hang under you to the Donít do chair position, this stirrup position is to stay under the rider to do slow performance, if you try to stand up and go forward you are in trouble, you will lose all Speed, Balance, Security, Agility, and Control and you will have to find something to hang on to, this type of saddle was designed to go slow and not ridden fast, that is why so many Barrel Racers are having problems, they are riding Western Pleasure Saddles with the stirrups hung behind the cinch and under them, they have to tie their feet in so they donít lose the stirrups, they have the cantle of the saddle the height of their shoulder blades so they donít come off the back of the horse. When they stand up and go forward they fall forward because their feet go behind them and they will push the horn out their back and then to top it off they need to hang on to the horn to stay on and give up 50% of their control, no folks this is not balance riding, this is just a battle to stay astraddle on a counterfeit saddle period because of the rear hung stirrups. Those that are interested in riding like the best in the World, please call me anytime I would love to help you, those that think what they are doing now is just fine for their level of riding then I wish you all the luck in the World. I would love the chance to help anyone be the best they can be, but you must first call me. May you always ride a great horse and youíre great Horse enjoys you more through, THE New BOZZAGE Hi-Tech Performance Riding School for Barrels & Endurance Racing. I have been a Monte Foreman Instructor since 1980 thank you everyone for all the years of support, sincerely BOZ, 559-542-1269 bozsaddlery.com
Why there are so many problems and no one wants to fix them unless they are willing to think outside the box. Please watch this film that the Great Monte Foreman made years ago to prove what it takes to build the #1 saddle in the world. You will see all the problems that other saddles cause and they donít work very well either. This tape was made in 1950, and then asks yourself why you canít get a horse to handle like what you will see on this tape. Also you canít keep up with them and their maneuvers because they are way too advanced. What do you think we can do today with you and your horse, 75 years later, with a Boz Original Balance Ride Spring-flex Saddle with over 32 things that no other saddle can do for the horse and rider, making it the # 1 saddle in the World for any discipline? Tell me what part of this is not correct; if you canít then I have proved my point. Now the question is how much do you love your horse to do something about it? No one puts a handle on a horse like us; now the question is do you want to ride with the top 1% riders in the world? Then please call me I would love the chance to talk to you about how to put you into a Boz Saddle, Bit and ďBOZZAGEĒ Training System, Sincerely BOZ 559-542-1269 bozsaddlery.com

https://www.youtube.com/watch?v=HeD0H3CtYFY
<![if !vml]>
<![endif]>
Monte Foremanís son doing Flying Changes, Same Lead Rolls out the opposite Leads, Roll Aways, 360's, Double 360's, and Galloping Spins. This is a clip from Monte Foremanís Saddle Research Film, ďRiding By ReasoningĒ https://youtu.be/N6fz4E3xGTs. THE New BOZZAGE Hi-Tech Performance Riding and Barrel Racing School, a Monte Foreman Instructor since 1980. Thank you for watching, sincerely BOZ, 559-542-1269 bozsaddlery.com
Monte Foreman was one of the greatest horsemen of all times. I am so fortunate to be one of only three foreman instructors left out of 15 total. Monte taught 95,000 students 787 clinics and produced the #1 training system in the world unmatched by anyone ever. We now call it BOZZAGE Hi-Tech Performance Riding For English And Western Collected And Speed Bozzage Combined 2 hands - 1 hand - no hands or with sticks only, at all 5 speeds Walk, Trot, Canter, Gallop, and Full Run, NO HANDS. May you always ride a great horse and your great horse enjoys you more through BOZZAGE. The saddle is New only 3 weeks old, but the training system is 75 years old, I hope this helps explain who we are and what we do. If we can ever be of any help please call us anytime. Sincerely BOZ 559-542-1269 bozsaddlery.com
<![if !vml]>
<![endif]> Riding By Reasoning PDF
The Question is??? Sit or Stand - Take the 15 Question Test