BOZ SADDLES AVAILABLE FOR DELIVERY IN JUST 4 WEEKS
We have 2 saddles TYPES available delivery in approximately 4 weeks.. SLICK OR SWELL FORK. Delivery date is approximately 4 weeks after we receive payment and paperwork. There are some options and you can change, such as type of stirrups, sponge comfort bars, Western or English cut sheepskin seats. You may also get additional options. All of the saddles below come with the following: Crupper ring, footman loops, latigos, 3" stirrup leathers, 4 strap eyes, 2 cinch snaps, 6 nylon strings, sponge comfort bars( 1/2", 3/4" or 1" with velcro on bottom), stirrups, pleasure seat, regular breast collar, Boz super 24" super cinch with sheepskin cover , and Boz deluxe horse saddle pad. $2495.00 base price. You cannot delete any of the above options but can add options
Below shows some options you can put on your saddle, refer to the saddle worksheet for cost of options.

Boz Flexible Springflex Airflow Saddle Trees: They come in most colors and either a Swell fork(the black tree in the middle or a Slick Fork (the brown on the left and the grey on the right). The swell accepts a horn and the slick doesn't.

This picture shows the front view and the difference of a swell fork and a slick fork. Red on left is a swell fork and the brown tree on the right is a slick.
ALL SADDLE TREES COME IN: Bone, Black, Brown, Red, Green, Blue, Purple, Gray, Pink or we can create a different color just for you. Bone color is no extra charge, all other colors are $75.00 option.
We will start with the basic Boz Trail Fleece Saddle: Swell and Slick fork trees These pictures are not the actual saddles, just showing the different styles and some options.
OPTIONS LINKS and prices:
Stirrups - $75.00 - This shows the stirrups available and prices. These saddles come with 1 1/2" performance, or 3" plain brown or bone , or 4" Trail in black or brown. All others stirrups are extra.
BreastCollar.jpg This shows the regular 1" breast collar that comes with the saddle on the left and the Deluxe upgrade breast saddle on the right for $150.00
Boz Pads - This shows the different sponge bars (saddles come with 1/2", 34" or 1" with velcro on bottom, other types are additional cost) and prices and the Boz horse pads in the different color options.
Thigh rolls for Slick Fork trees: $225.00
Horns (only available for Swell fork trees): Bronze: 250.00 or Alum: 225.00. New Rubber horn coming soon: 250.00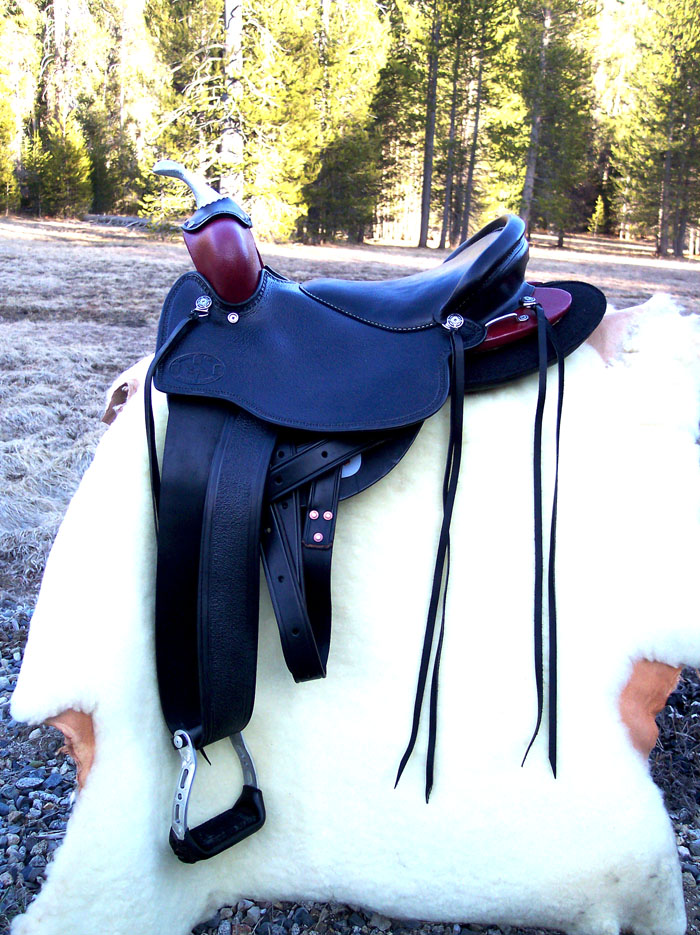 SOLD $3295.00 plus tax and shipping Boz Ultra Light Sport Agility Saddle - Brick Red Saddle tree in Black leather, Black Leather Seat with stamping, Performance seat, narrow twist, 1 pair latigos, 1 pair of 3" stirrup leathers, crupper ring, nylon strings with cinch clips, footman loops and leather name plate, Deluxe Breast Collar with stamping, 1" Black Leather Sponge comfort bars, Special Engraved Alum. sitrrups, Boz Pebble Grip Horn Boz 24" super cinch with cover and Boz Horse Pad (choice of color or pattern ):
BOZ TAN LEATHER ULTIMATE SADDLE

SOLD
BOZ SWELL FORK SADDLE TREE - Basic saddle comes with footman loops, tie strings, strap eyes, cinch snaps, latigos, narrow twist, crupper ring, Boz 24" super cinch with cover, pleasure seat.
ALUMINUM ENGRAVED 2" RACING STIRRUPS
LEATHER SEAT
COVERED POMMEL
COVERED REAR POINTS
WESTERN STIRRUP FENDERS
DELUXE BREAST COLLAR UPGRADE
STAMPING
SEAT
BREAST COLLAR
REAR POINTS
WESTERN CUT STIRRUPS LEATHERS
BOZ DELUXE NASA FOAM BARS COVER BROWN LEATHER UPGRADE
BRONZE HORN
PONY RING
SILVER CONCHOS
BOZ SUPER PAD FOR HORSE WITH NASA FOAM INSERTS
TOTAL $4720.00 with horse pad $4455.00 without horse pad
Plus tax (depending on options) and shipping ($65.00)
BOZ SPORT AGILITY SADDLE

SORRY SOLD!!!!!!
BOZ SLICK FORK BROWN SADDLE TREE - Basic saddle comes with footman loops, tie strings, strap eyes, cinch snaps, latigos, narrow twist, crupper ring, pleasure seat.
OPTIONS ADDED TO THIS SADDLE:
Thigh Rolls:
Leather seat:
Deluxe breast collar upgrade:
Upgrade to Boz Super Velcro sponge pads (NASA foam) Leather covered:
Boz Super Deluxe Horse Pad with NASA foam inserts:
Pony ring:
Silver package – partial :
Boz 24" Super cinch with black sheepskin cover:
1 ½" performance stirrups:
Laced stirrups:
Cover rear points:
Brown Tree:
TOTAL $3880.00 with pad $3615.00 without pad
Plus tax (depending on options) and shipping ($65.00)