Bozzage Students and Boz Saddle Owners Points of View
IF YOU DECIDE TO CONTACT ANY OF THESE PEOPLE, PLEASE REMEMBER TO KEEP YOUR CONVERSATIONS SHORT AND TO THE POINT, THEY HAVE FAMILIES AND CAREERS AND ARE NOT GETTING PAID FOR THEIR TIME.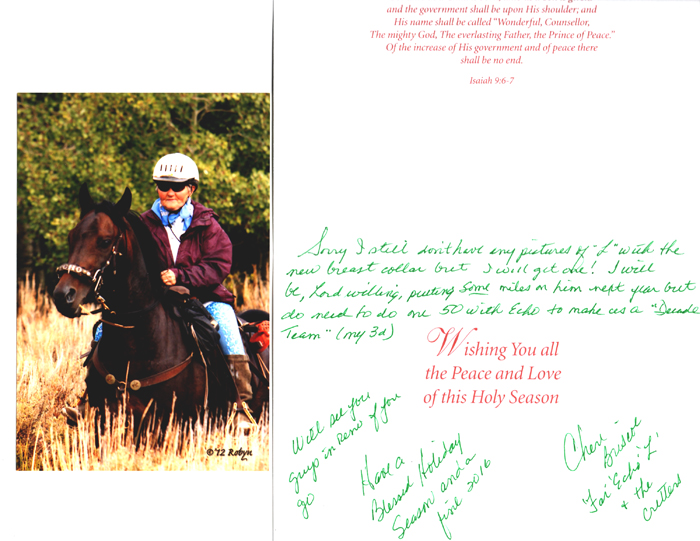 2015 - Arab Stallion - MMF Thunders Echo+/ 7000 miles - Eastern High Sierra Classic 50 - Aug. 2012 in the Bareback Rig. 5 AERC National Championship - 3 Jim Jones - 1 National Mileage - 1 Bill Stuckey
A BIG CONGRATS OUT TO CHERI BRISCO ON HER AMAZING ACHIEVEMENTS IN THE WORLD OF ENDURANCE 2013. She has both our Boz Bareback Saddle and The Boz Trail Saddle with the fleece seat. She rides both of our saddles but thinks she really likes the Boz Bareback the best. Please see below what she did in 2013 and scroll down to the Endurance sections of Testimonials, to see what she has done in the past years.
Cheri Brisco does it again:

2013 Christmas card brings another great year for Cheri. 1660 miles in 2013. 1st Jim Jones Stallion Award, 1st National Mileage Championship Senior Division, 1st award for Bill Stuckey, 1st Pac S.W. Feather weight. This was done all in the Boz Bareback Saddle and Boz Trail Saddle. See her quote in AERC News, thanking Boz for making saddles that fit so well.

Rita Mason continues with the Bozzage Training methods on her Dressage Horses. Click here to see her latest achievements. Rita Mason 11-7-14 Testimonial

National Champion and out on the trail.
Well Rita is doing it again through the Bozzage method of training in the world of Dressage. Please click here to see her email. Mason update
Rita Mason is one of Boz's long time students and started in endurance and started coming to his clinics. She has progressed with her original horse through the years, here is an email we received and some pictures of her horse. Rita Testimonial 1 Rita also sent a 2nd email with a video link http://www.youtube.com/watch?v=PJmtXUYqZBw of her and her horse on the Grand Prix Rides Rita Testimonial 2


She also did a demo bridleless see her video http://www.youtube.com/watch?v=hIyE3sdxLhA
Melissa Trott owns a Boz Saddle Kit and has recently purchased a Boz Bareback , click here for her comments about Boz Saddles: Trottbarebacktestimonial
Boz Testimonial-Orlando Alamillo 3-21-07
Orlando Alamillo lives in Southern California. After purchasing and using his Boz equipment since the summer of 2002, this is his testimonial. Orlando has the Boz Saddle, 2 Boz Bareback saddles, Boz Gear and has been to many clinics and has come for private lessons. These pictures show Orlando on a couple of his horses Chewy and Decka. Orlando's testimonial
Video - This video shows Orlando riding the Boz Bareback in a Rodeo Horse racing event.
Orlando riding at a Mounted Shooting event.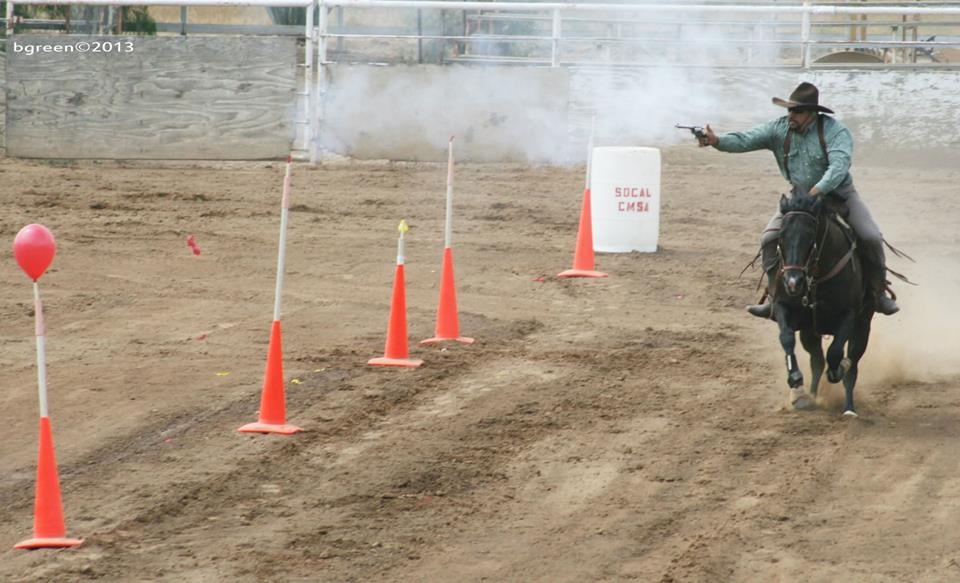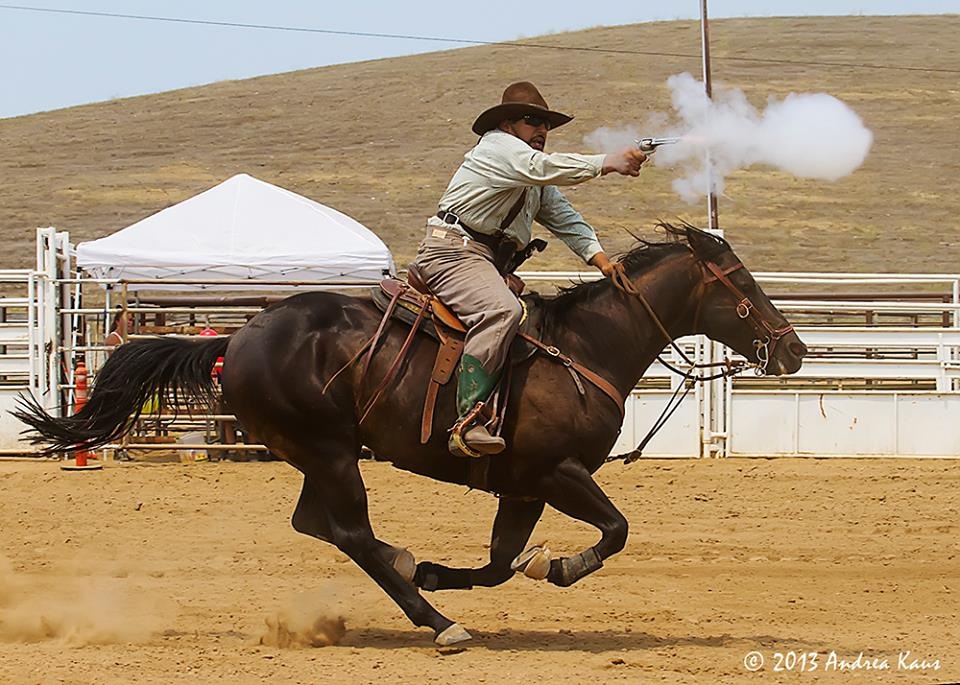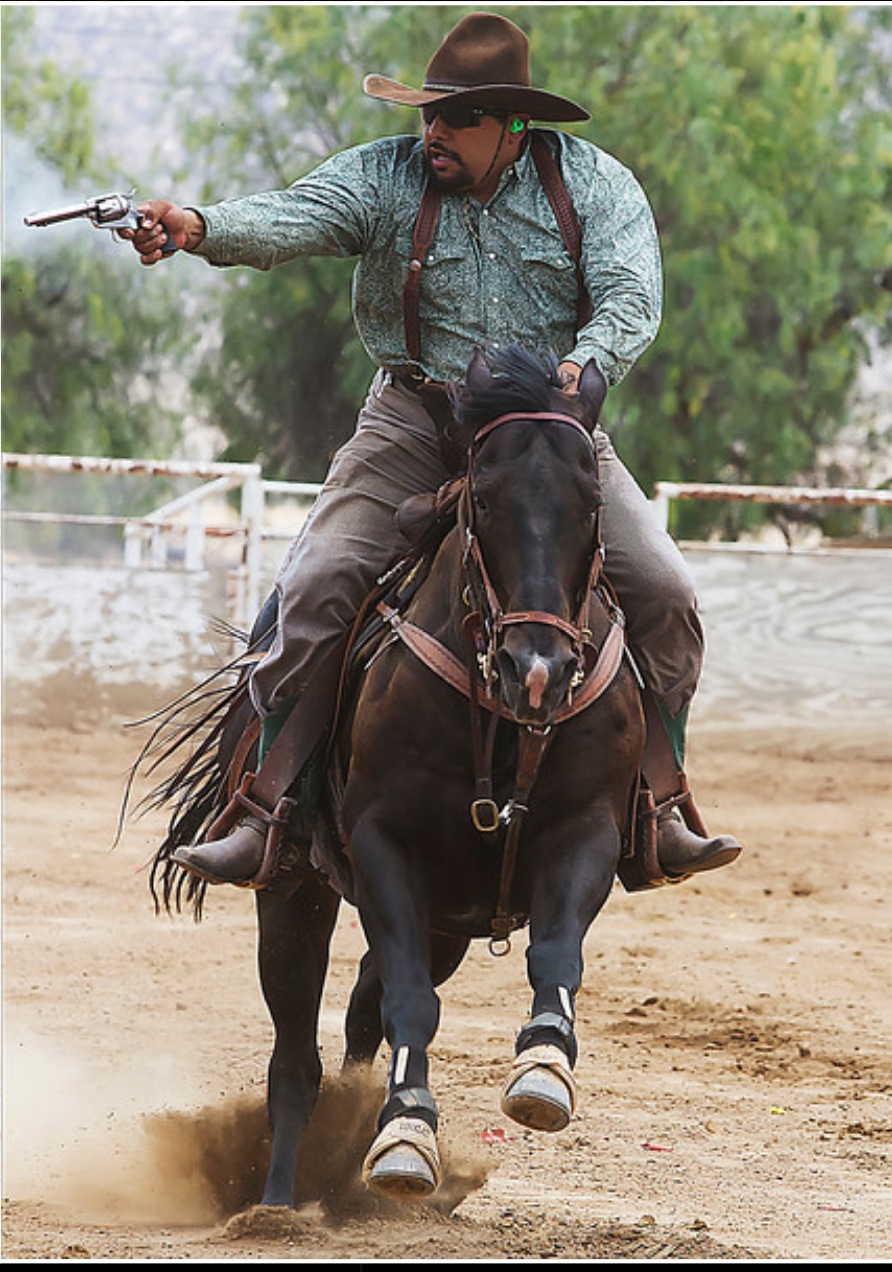 Teri Thurbush as been coming to Boz's clinics for quite a few years and has just recently entertained the idea of taking up a new sport. Rode in Mounted Shooting clinic
Monique Fimbres rides C.G.A. gymkhanas and A.Q.H.A. shows - speed events. Click here to see what she thinks of Boz Saddles, Equipment and training. Moniquetestimonial
Jeanne Aslakson lives in northern Michigan and does competitive trail rides and endurance. Click here for her testimonial.

Renee Been does all types of riding on several types of horses. She is a registered nurse and spends her time between the Bay area in Northern California and her ranch in Arizona. She has traveled here for private training and has also attended several of Boz's clinics. Please see below pictures of her Peruvian horse Avonna, her Mule Ruby, and her Mustang .
These are her comments:
I love my Boz saddle. Several pictures are taken at shows. What is too cool, is that all three horses shown under the Boz saddle have completely different backs, and conformations!!. My Peruvian has a curved back, the mule has a completely flat back with no withers, and the Mustang has a short, wide back. The saddle fits all of them, and it is my only saddle choice at this time (I have 14 other saddles). Also pictured (unfortunately not the best picture) is the pony ring being used. The filly in that picture has the Boz halter/bridle on. email address: reneebeen@sbcglobal.net
Avonna

- Peruvian - Avonna in the show ring

- Ruby the Mule

- Mustang
- Pony Ring

A potential customer that has a mule emailed Renee and this is Renee's reply: Renee's reply
XANDER is probably the cutest guy you will ever meet. He is the son of Shaun and Jennifer McKinley. He is shown on his little horse named Belle an American Cream Draft Horse. Please watch for more pictures of this little Buckaroo. He loves his bareback and rides in nothing else. Xander was 1 year old in December 2007. Xander at 13 months

Shaun and Jennifer McKinley have Denali Draft horses, check out their website if you would like to buy an American Cream. www.denalidrafthorses.com or email them at: info@denalidrafthorses.com
Harriet Forkey - Lundholm - she has had her saddle since 2005 and her horse has never been happier. Written Testimonial Click on picture to see Harriet and her horse Pluto

Linda Bettner - testimonial of another happy Boz saddle owner Testimonial

Becky Amio is a Bozzage student, Gymkhana Champion Rider, Horse Trainer and Instructor, she holds a BA and Masters degree in business and has written several testimonials on Bozzage training, Bozzage Clinics, Boz Equipment, and Boz Saddles. Becky lives in South Dakota, originally from Southern California. This video shows Becky on a horse that she is training and it has only had 20 rides. She uses the Bozzage method and Boz Saddlery saddles and equipment.
CONGRATS TO BECKY: Becky just qualified for the 2006 WORLD Championships in Barrels and Poles..........
Becky

shown going around poles and and Becky & Orlando
racing for # 1 and #2 places in their Boz Barebacks.
Becky in the Boz English Bareback jumping treeless saddle, showing how you can even jump in the Boz Bareback. Becky is on her 13.2 POA Pony, jumping 4 1/2 feet, the background fence is 5 feet at the top.
Becky jumping in the Bareback


Bozzage Training
The Boz Bucking Dummy
Boz Training Equipment

BOZ KITS

Here is a movie of Beth "Higgy" putting together a Boz Kit Saddle with her husband. https://www.youtube.com/watch?v=-RRROW7P4BI

Click here:

Nancy Paschall-Huntington - Kit # 1. 2009 This is her written testimonial. Kit1 - Testimonial

July 2015 Nancy sent her kit back to us for an upgrade. See below the transformation from 6 year old kit saddle to a Sport Agility Saddle.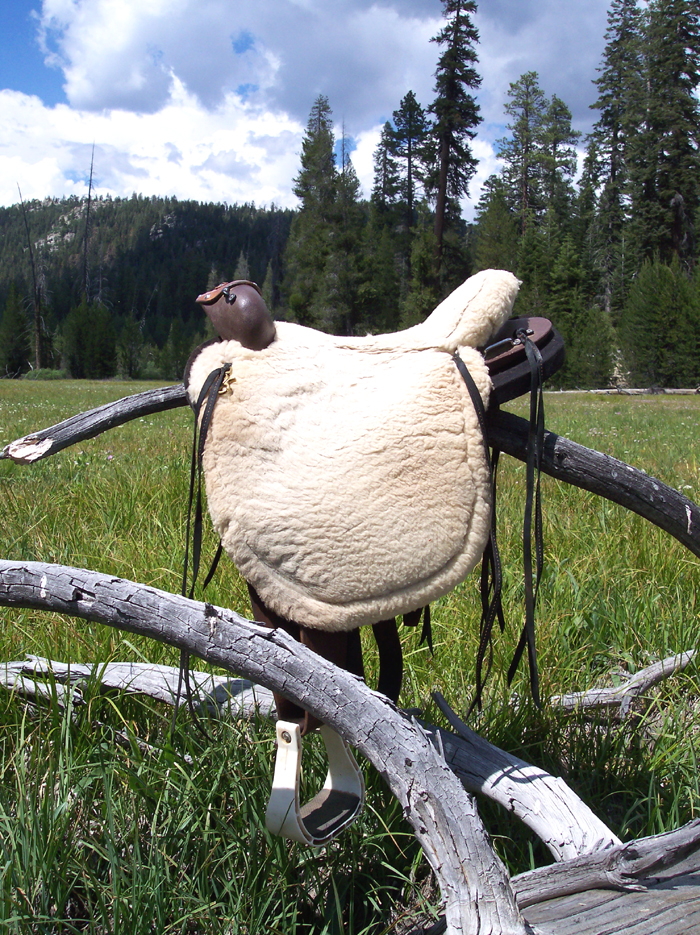 Before After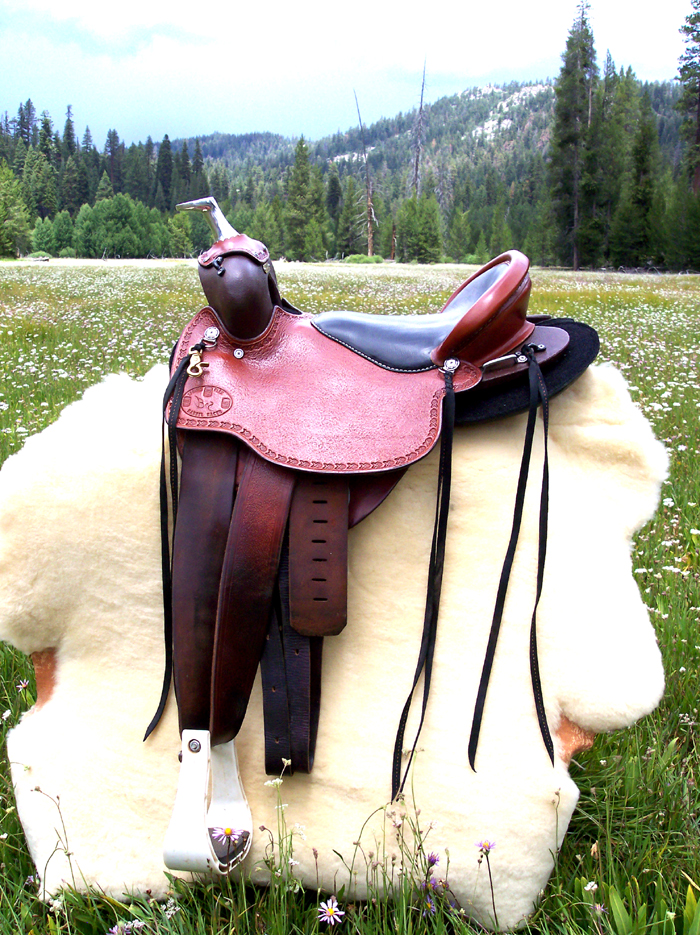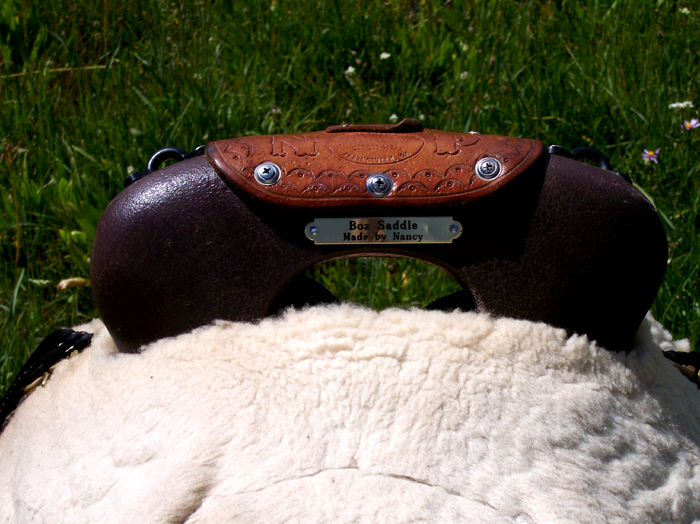 Before After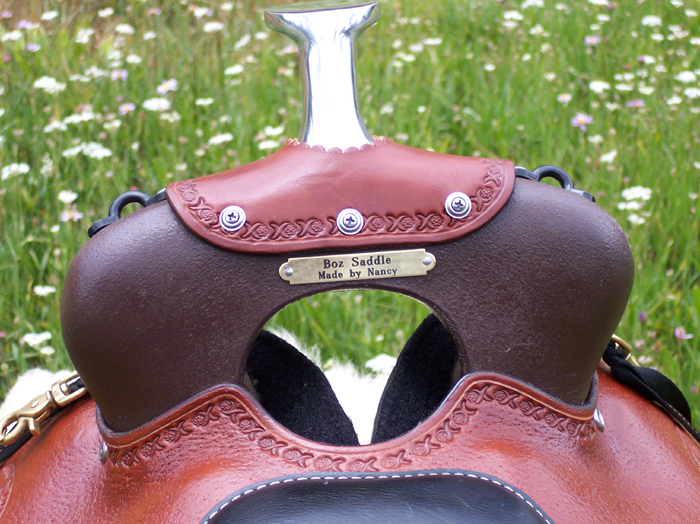 Click here for her testimonial: Nancy Paschall testimonial 2016
See below under Mules for another kit saddle.
Michaela is 13 years old and put together her very own kit saddle, here is her email testimonial. Michaela testimonial
Robert Hopkins put his kit together in just 2 hours. Robert Hopkins written testimonial
Here is another testimonial by Bob: Bobs Testimonial and see his pictures below.

The Boz does well on my Paso Fino. I thank you John. Bob Hopkins - 6-3-12
Debbie Townsley has 3 different horses and she uses her Boz Kit saddle on all of them. Debbie's written testimonial
Sharann Derksen/Schuck already has a Boz Bareback and Boz Fleece Trail saddle and now a Boz Saddle Kit saddle. She put together her kit is 2 1/2 hours. Sharann's written testimonial Here are some of her pictures of her saddle and her horse: She has a new email address if you want to contact her: sharann.schuck@gmail.com
David Shefrin has a Boz saddle and ordered a kit, click here for his testimonial
ENDURANCE
Renie Burnett has been a very long time Boz saddle owner and has attended a lot of Boz Clinics throughout the years. She hosted a Boz clinic and has become a good friend over the years along with her husband Bob. She lives up by Redding so we don't get to see them very often but usually get together at the AERC convention in Reno each year. Here is an email we received from her on 10-6-08. Renie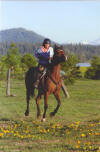 Renie sent an email regarding an article written about her in the CSHA Region 18 Endurances News. She and her horse Czentinel were 1st. place Featherweight Endurance winners in California State Horsemen's Assoc. Region 18 for 2008Article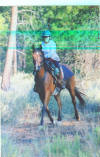 Renie on Czentinel, taken at 80 mile ride in Oregon and she got 4th place. Please click here to see some of Renie's responses and answer to questions on Ridecamp concerning Boz Saddles on his Patented flexible trees. Ridecamp
Whiskey Town Chaser 50 - April 2009 - Email from Renie - 4-21-09
Renie's email regarding 2011 Tevis ride
Nancy and Emma Agnew are mother and daughter and they tell their story about how they got their Boz Saddle and how they like them.
Nick McDonald lives in British Columbia Canada and here is his testimonial and some pictures of horse.



Sandy Terp is an Endurance rider/Trainer and owns a feed and tack store in New Jersey and has been looking for a saddle and gear to offer for sale in her store and has found the Boz. She has had it tested at a Thermography clinic and passed with flying colors.
Gina Rice is a professional Farrier and an Endurance rider and has seen the difference a Boz saddle makes.
Melinda and Gala Affair

(Morgan gelding) from Switzerland
Morgan Tack Shop
M. & E. Winzeler
Grabenwiese 84
8484 Weisslingen
Switzerland
Phone: ++41 (0)52 3840003
Fax: ++41 (0)52 3840005
Email: info@morgantackshop.ch
Kristen Howard is an Endurance rider from Ontario Canada and love her Boz saddle.

EMAIL from Kristen with a picture: Hi Ann. You told me if I got a better picture of my horse wearing her Boz saddle to send it to you. Well...I've attached one! I hope this is what you had in mind. Photo credits to Wendy Webb.

PS - My horse and I completed our first 100 mile ride on August 31 in the Boz, and finished all A's with a final pulse of 36! I know we couldn't have been so successful without the Boz! Thank you!
Diana Dye is an experienced endurance rider and has had Boz saddles for quite a few years. This picture show her and her grand daughter Madess Hoffer Dye. This picture was taken in 3/06.

Nancy Kain and Spike a testimonial from an endurance rider, a happy Boz saddle owner and a very happy horse with no more sore back problems
Carolyn S. Loedeman is an endurance rider that loves our saddles and even bought 2. She raises and rides Champion Appaloosas.
Natalie Muzzio is an endurance rider in Virginia. She had a horse with back problems and was referred by a
friend to try a Boz Saddle.
Sandy Prior is an endurance rider with many horses and riding on 100 mile endurance rides

Lynn Faust
Lynn Faust after a year with 2 Boz saddles and many miles on the trail.
Email inquiry: Lynn answers an email inquiry about Boz saddles.
Cheri Brisco does it again:

2013 Christmas card brings another great year for Cheri. 1660 miles in 2013. 1st Jim Jones Stallion Award, 1st National Mileage Championship Senior Division, 1st award for Bill Stuckey, 1st Pac S.W. Feather weight. This was done all in the Boz Bareback Saddle and Boz Trail Saddle. See her quote in AERC News, thanking Boz for making saddles that fit so well.

Cheri Briscoe

(picture in Death Valley Encounter 4 days 200 miles Dec. 2011. ) Echo had 1,405 miles for the 2012 ride season and won the Jim Jones Stallion award.

Cheri Briscoe & MMF Thunders Echo 10 yr. Arab Stallion at the Grand Cyn X P Oct. 2011 - Echo has gone 1005 miles in 2011 - more than 1/2 are in the bareback rig.

MMF Thunders Echo & Cheri at the 2 day 100mils Ft. Schellbourne N. Venada 2009
Cheri Briscoe is a very experienced Endurance Rider. She has the original Boz Balanced ride saddle and has recently purchased our new Boz Balanced Ride Bareback saddle.
Email inquiry: Cheri answers an email inquiry about Boz Saddles.
Page 1
Page 2
Cheri
Cheri with picture of DR 3 pictures riding Far on her Boz Balanced Ride Bareback saddle. 3-5-05 - Save our Trails 50 mile ride, Sunland 50, and 20 Mule Team 65 mile ride.

Mike Jepsen

ODE TO BOZ

Chris Knoch #1

Chris Knoch #2

Trotting on Water By Jeff Herten
Connie Wilhorn is another happy Endurance rider with her Boz saddle
Kay Johnston an endurance rider, had a horse with chronic sore back and with her Boz saddle the problem is solved.
Sharlene Roberts-Caudle account of her training with Boz and Boz Saddlery equipment.

Cheryl Myres and endurance rider and happy with her Boz Saddle
MULES
Jerry Mickler Testimonial - Jerry lives in Indiana and rides a mule. Click on his testimonial to see how easy it was for him to put together the kit.

Jerry selected a slick for kit with thigh rolls

Kit is done and ready for a try.

Jerry riding his mule on his new Boz Kit saddle that he put together himself
Clarence Koch is 75 years young and loves riding his mule with his Boz saddle. Testimonial
Don Anderson lives in Wisconsin and loves how his Boz saddle fits his mules. He has sent 2 pictures for your review, 1 shows him on his mule and the other show him with his grandson riding his mule. He has also sent a written testimonial regarding the Boz Saddle.
Don's Testimonial pictures of Don on Pat his Mule and Grandpa Don and Grandson Ashton
Linda Beymer lives in Northern California and rides many miles on her mules. Please see her picture and read her testimonial. Testimonial (handwritten) Typed version
Philip Johnson has a Boz saddle and it fits his mule and he really enjoys riding in the Colorado mountains.
GAITED HORSES
Nancy Morton - Nancy is a Gaited Horse trail rider and Natural horsemanship student Testimonial

OTHER TYPES OF RIDING
Monette Groff is a trail rider and has 4 horses and rides them all on a Boz.
Deborah Pearce is another happy Boz saddle owner. She lives in Maryland and you can contact her via email. FJPearce@aol.com
Katie's Testimonial Katie Saarela another satisfied Boz Saddle owner.
Judy Allen has a Boz saddle that she uses on her 3 half arab mares and her husbands half Percheron mare.
Holly Loveland appreciates what a Boz saddle does for her horse and her confidence as a rider.
Randi Jackson a Boz saddle fan from the early 90's.
Gary and Linda Byrne are long time owners of their Boz saddle since the 90's.
Updates from Linda via email Update 7-17-08 Update 9-09-08
Thomas Christman a very satisfied Boz Saddle owner - His Testimonial

Brandi Augello
Brandi calls herself a hybrid rider. She is an English, Western rider and also a jumper. She does all this in Boz Saddles.

Dave Francisco

ShazzMarie

Karen



Kathy Swanson a Pleased owner of a BOZ saddle

Pat Warkus, M.D.

Joyce Kellenberger

A report after a 50 mile ride from Joyce Kellenberger

Addendum to the above report from Joyce Kellenberger

If you are considering or having your horse trained by a professional, this is what you should expect from a professional horse trainer to accomplish in 30 days on your horse.
Below are 3 pages regarding the accomplishments of 30 days training on a Boz customers 4 year old Morgan. On page 3 is a testimonial from SaraLynn Mandel the owner.
Page 1
Page 2
Page 3

Nick Oprandy is a Utah U.S. Forest Service Ranger. Nick brought 2 horses out to California and this is recap of his time spent with Boz and the Bozzage training method.

Nick Oprandy and Bozzage Training

Roxanne Thrower owns 18 and some 19 hand shires.
Diana Jones another happy Boz Saddle owner