BOZ
Assortment of Equestrian Equipment

Boz Assortment of Equestrian Equipment and saddles, teaches and trains horses 80% faster than any other.
Boz Custom handmade Spurs $125.00 and Boz Custom handmade Snaffle Bits $200.00


The Spurs are specially designed with 3/4" stainless steel ball, complete with leather straps. The Boz Custom handmade Snaffle comes with a noseband attachment
BOZ BASIC CONTROL PACKAGE guaranteed to give 95% more control than anything ever built or used on a horse or mule,
$550.00 value for only $400.00 - includes the following 4 items when bought as a package:
1. Leather headstall (machine stitched) $125.00
2. 30" reins with sticks $175.00
3. Martingale $50.00
4. Boz snaffle $200.00
Call now and order. 559-542-1269
GoGo with Boz Custom Handtied Halter Combo $49.95 regular, Large $54.95 and Exlarge $59.95 with the Boz Custom Handmade Snaffle Bit $200.00

Handmade Leather Headstalls Headstalls

GoGo with Boz Custom handmade Leather Headstall and Boz custom Snaffle $200.00. Boz Custom Handmade leather handsewn headstall $250.00, Cavasan $125.00, Leather drop noseband attachments $200.00 , Black Split reins with sticks no snaps with tassels for slobber straps $210.00 (24" sticks) $197.50(18" sticks), Leather slobber straps $75.00

Close up

side view

Patriot with the new Boz leather drop noseband (for even more control for all those advanced moves) - $125.00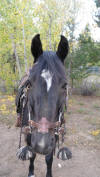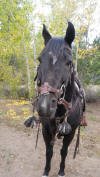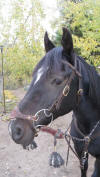 Boz Lead Ropes:

This shows the 2 different snaps, quick release $80.00 and the heavy duty snap $120.00

This shows the matching Boz Halter/Bridle Combo (Regular $49.95) and the Monkey Fist Lead Rope with heavy duty snap $120.00
Boz Split Reins with sticks in 4 different colors, Black, Red, Blue (not shown) & Green:
3 different lengths: 18" $130.00 - 24" $150.00 or 30" $175.00

Bozo the Desensitizing Headless Horseman or Bucking Dummy. Bozo starts them and you put the finish on them. Bozo can out teach, out train and out ride any human on any horse, on any day. He never makes a mistake. Bozo is exactly the same every time and every day he rides. Bozo The Desensitizing Headless Horseman or Bucking Dummy and Training Video Bozo

$500.00
If you don't use the Boz Bucking Dummy THEN you become the Bucking Dummy!


Bozo The Desensitizing Headless Horseman or Bucking Dummy Close-up

This shows a close up view of Bozo The Desensitizing Headless Horseman.




Handmade Leather Regular $150.00 and Deluxe Breast Collars $250.00 (border stamping add: $50.00)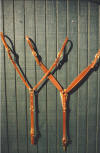 Boz Smooth Skin Leather Treatment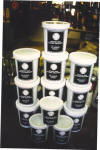 Small $19.95, Large $34.95 , Sample $6.95
This by far is the greatest leather conditioner you will ever use. Works fantastic on all leather goods. It even works on dry and cracked hands. Totally environmentally safe.

The Monte Foreman Bits are humane, versatile & efficient, Click here to see why.

View all 3, Monte Foreman Bit, Boz Custom handmade Snaffle bit and Boz custom handmade spurs.

Monte Foreman 5" mouth piece $125.00, Boz Foreman Combo bit 5", 3", and Snaffle ALL IN 1 BIT $175.00